Haitians flee homes as Hurricane Matthew hits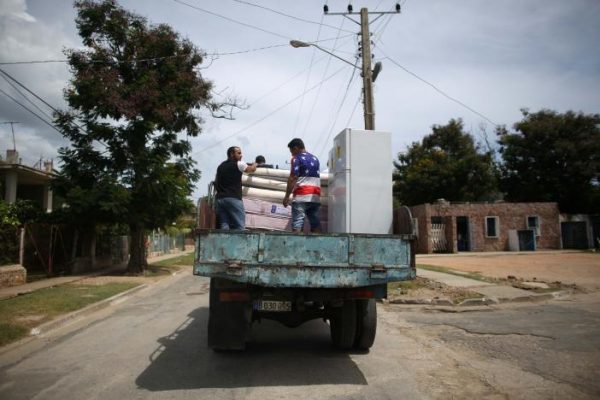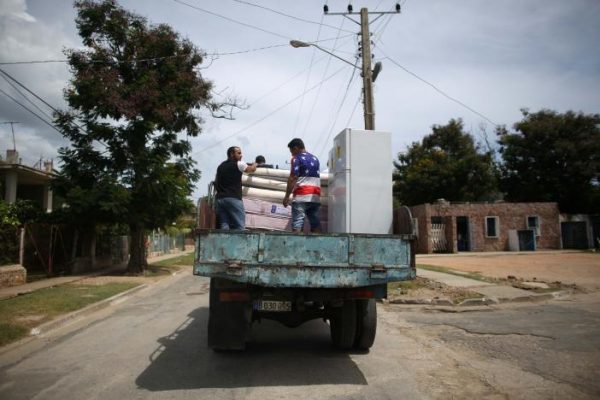 By Makini Brice
LES CAYES, HAITI- Haitians living in vulnerable coastal shacks frantically sought shelter as the strongest Caribbean storm in nine years, Hurricane Matthew, closed in on the southwestern peninsula, sending storm surges, wind and rain into seaside towns.
Matthew, a violent Category 4 storm packing 145 mile-per-hour (230 kph) winds, was due to pound the western tip of Haiti early on Tuesday, the U.S. National Hurricane Center said.
The center said in a 2 a.m. EDT (0600 GMT) Tuesday advisory that "life-threatening rain, wind and storm surges" began to spread over portions of the country.
The outer bands of the cyclone had already reached the area late on Monday, flooding dozens of houses in the town of Les Anglais when the ocean rose, the local mayor said. In the town of Les Cayes on the southern coast, the wind bent trees and the power went out.
"We have gusts of wind hitting the whole area and the people have fled to a shelter," said Les Anglais mayor Jean-Claude Despierre. In Tiburon, another town nearby, the mayor said people who had been reluctant to leave their homes also fled when the sea rose.
"Everyone is trying to find a safe place to protect themselves, the situation is very difficult," mayor Remiza Denize said, describing large waves hitting the town.
The storm is forecast to spread hurricane force winds and up to three feet of rain across denuded hills prone to flash floods and mudslides, threatening villages as well as shanty towns in the capital Port-au-Prince.
"This is the most vulnerable suburb in the area. Here people are going about organizing things, we know that the hurricane is coming," said Afou, a volunteer at a children's home made of tin sheeting on the rubbish-strewn seashore of Haiti's Cite Soleil slum in the capital.
"If things are bad then we will come together," said Afou, who only gave his first name. Later, civil protection authorities said 130 children were evacuated by bus from another orphanage in the slum to a high school in the capital.
The Mayor of Cite Soleil, Frederic Hislain, said 150,000 people whose homes were threatened needed to be bused to safer places, but accepted that many people would not want to leave. Poor Haitians are often loath to leave home in the face of storms, fearing their few belongings will be stolen.
The cyclone comes at a bad time for Haiti, where tens of thousands of people still live in tents after a 2010 earthquake that killed upwards of 200,000 people. Cholera introduced by U.N. peacekeepers is expected to rise in the October rainy season, and the country was due to hold a long-delayed presidential election on Oct 9.
The office of Interim President Jocelerme Privert said there was no change to the election date.
On the north coast, some 300 detainees were transferred from their prison near the sea in the town of Jeremie, the interior ministry said.
Matthew is forecast to sweep over Cuba to the Bahamas on Tuesday and possibly reach Florida by Thursday as a major hurricane, though weaker than at present. Governor Rick Scott declared a state of emergency for Florida on Monday, designating resources for evacuations and shelters and putting the National Guard on standby.
One of the most powerful Atlantic hurricanes in recent history, it was about 60 miles (100 km) south of westernmost Haiti at 2 a.m. EDT (0600 GMT) on Tuesday, the U.S. hurricane center said.
Crawling north at about 8 miles-per-hour (11 kph), the storm threatens to linger long enough for its winds and rain to cause great damage.
In Les Cayes about 150 people huddled without electricity or food in the town's largest shelter, a school.
"There is no food," said Erick Cange, 69 years old, a resident of the La Savanne neighborhood surrounding the school.
"Since yesterday we've had nothing … We must sleep on the floor … Everyone is hungry."
The conditions in the shelter compared unfavorably with Haiti's neighbor Cuba, where authorities spent days organizing teams of volunteers to move residents to safety and secure property.
The storm is expected to make a direct hit later on Tuesday in the province of Guantanamo, the disputed home to a U.S. Naval base and military prison but also a small Cuban city.
"We are receiving people living in villages prone to flooding," said Alexis Iglesias, head of the evacuation committee at Guantanamo University which was being used as shelter.
"Food is guaranteed and we have a generator that will guarantee that the kitchen keeps on working in case of a power cut," he said, at the shelter, where some 400 people were staying.
The U.S. Agency for International Development said on Monday it was providing a combined $400,000 in aid to Haiti and Jamaica. The agency said in a statement it had pre-positioned relief supplies and was preparing to ship in additional supplies to the central Caribbean.
REUTERS