Phalange party leader weds a Lebanese-French dentist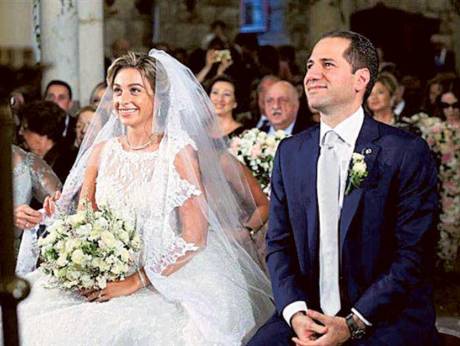 Phalange party leader Sami Gemayel wed on Saturday at Mar Mikhayel Church, in Bikfaya French-born Carine Tadmouri, a dentist from a prominent family in Tripoli, north Lebanon
The marriage has been the subject of national gossip and scandal, given that 36-year-old Gemayel is a Christian Maronite and the son of former president Amine Gemayel, while his bride is a Sunni Muslim .
Gemayel expressed disappointment that her Muslim background was being viewed as scandalous by some people.
"I feel sorry that some people interfere this way in the lives of a young man and woman trying to build a family, and I tell them, instead of being distracted by people's lives, care for the country," Gemayel said during an interview on MTV Lebanon last week.
The Phalange Party had long been viewed as a far-right Christian party notorious during Lebanon's 1975-1990 civil war for its sectarian killings but the young Gemayel has tried to open up the party since taking over its presidency last year from his father, and for the first time in its history invited Muslims to join.
Lebanon has 18 different religions and sects. The marriage laws — along with those governing divorce and inheritance — are determined by 15 different religious courts. Mixed-religion marriages are legal and have recently become more common, but religious authorities have been fighting this trend making it extremely cumbersome for newly weds.
It was not clear whether Tadmouri converted to Christianity before her wedding at the church.