Lebanon parliament failed again and for the 45th time to elect a president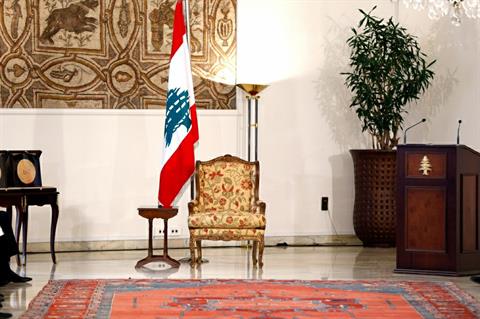 The Lebanese parliament failed again today   and for the 45th  time in a row to elect a president to replace Michel Suleiman whose term ended on May 25 , 2014.
As in the past sessions the parliament was unable to reach a quorum because the Iranian-backed Hezbollah militant group and its ally MP Michel Aoun's Change and Reform bloc MPs boycotted the session, because they could not reportedly guarantee Aoun's election as a president.
Amal Movement leader, Speaker Nabih Berri a key ally of Hezbollah postponed the election to October 31st.
Only 53 lawmakers showed up at the Parliament in Beirut's Nejmeh Square, falling far short of the 86 MPs required to reach quorum.
The first MPs to arrive were Dory Chamoun, Ammar Houri and Emile Rahmeh.
Most of the attendees were from the March 14 coalition.
Aoun and Marada Movement leader Suleiman Frangieh are  the 2 main  candidates for president and both are key members of the Hezbollah -led March 8 alliance
Aoun is backed by Hezbollah and the Lebanese Forces, while  Frangieh is mainly supported by the Future Movement, the Amal Movement and the Progressive Socialist Party.
Both Hezbollah and the LF have attempted to convince Future Movement leader Saad Hariri to relinquish support for Frangieh and instead endorse Aoun, which they say is the only way to end the presidential vacancy.
Since his arrival to Beirut on Saturday, Hariri has kicked off a series of consultations with top leaders in a bid to end the presidential vacuum, but has not declared any change in his choice for candidate.
"It is clear that the only political man who is making the initiative to elect a president is Prime Minister Saad Hariri," State Minister Nabil de Freij told reporters from Nejmeh Square.
De Freij, who belongs to the Future Movement, added that his party will not change its stance over Frangieh without first consulting with him.
"Whatever Hariri decides we will abide by it," Future Bloc MP Atef Majdalani told reporters.
Chamoun questions Aoun's  eligibility for presidency
MP Dory Chamoun questioned the eligibility of  Aoun (without naming him) for the presidency  and said that old people are usually requested to submit their  health records when they wish to  apply to governmental positions, let alone if they apply for  the post of presidency.
"If somebody wants to apply for any government job , they are usually requested to submit  medical certificate stating qualification for   performing a particular job , let alone if he is a candidate for the presidency," said Chamoun in a statement  after the failed  parliament session .
"When my father– late President of Lebanon Camille Chamoun– was a president, he used to work for more than 14 hours a day. Today the candidate for the presidency must prove eligibility to work for at least 10 hours consecutively," added Chamoun.
Aoun, aged 81, was recently replaced  by his son-in-law Gebran Bassil  as the  Free Patriotic Movement leader
According to Lebanese media, Aoun suffers from Bipolar disorder , sometimes called manic-depressive disorder, which is associated with mood swings that range from the lows of depression to the highs of mania ". This reportedly could be the reason why he is usually easily agitated, frustrated, moody and loses control.
Aoun reportedly stopped making public appearances months ago.