Photos of babies in cardboard boxes highlight Venezuela crisis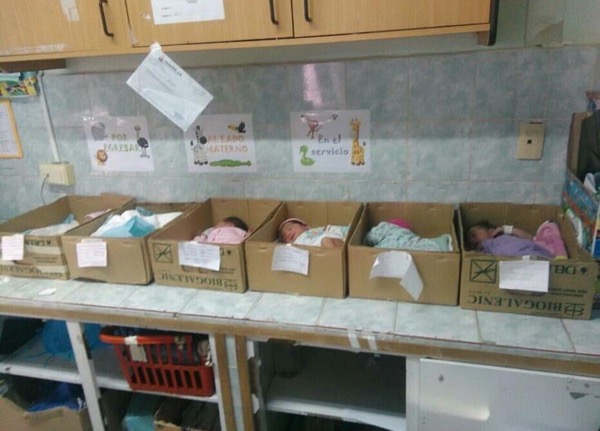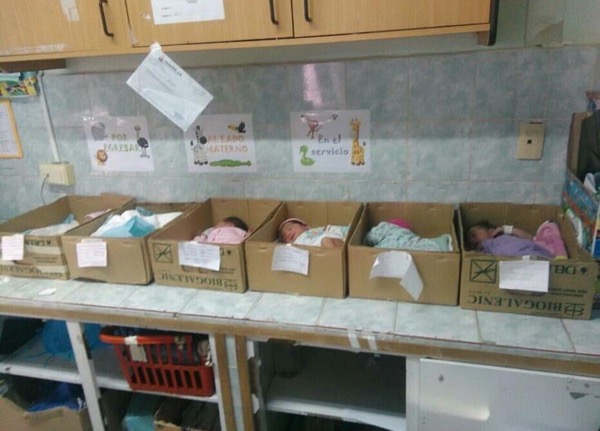 Photos of newborns placed in cardboard boxes in a maternity ward have been circulating on social networks in Venezuela. They show yet another effect of the deep economic crisis shaking the country.
The pictures were published Tuesday on Twitter by Manuel Ferreira, a lawyer and opposition activist. He said they were sent to him by personnel at the maternity of Las Garzas hospital, near the city of Barcelona in Anzoategui state.
On the same day, another photo of the newborns was published by an independent Venezuelan journalist, who confirmed this took place at Las Garzas hospital.
The hospital's director, José G. Zurbaran, first reacted on Twitter by denouncing a "vicious attack by the media" and denied the photos' authenticity. However, in a second tweet, he changed his story: he said this was an isolated incident, implying that the photos were indeed taken at his hospital.
Meanwhile, the director of the Venezuelan Institute for Social Security, Carlos Rotondaro, has ordered an investigation.
Venezuelans can no longer get their hands on 80% of basic goods

These images have fueled anger about the shortage of goods caused by the country's economic situation. Venezuela, a major oil producer, has been experiencing an unprecedented crisis due to the global fall in oil prices. In 2015, the country's inflation rose 180 percent, and GDP dipped by nearly 6 percent for a second consecutive year.
In total, 80 percent of basic goods (food, medicine, etc) are no longer available. Hospitals and clinics are no exception. Back in March, medical students in Caracas sent France 24 a series of photos showing the lack of medicine and supplies at one of the capital's hospitals.
Shortages have also left many supermarket shelves eerily empty. Many basic food products are either impossible to find or have become unaffordable for most people.
OSERVERS.FRANCE24