Lebanon DM vows to extend Kahwaji's term if no deal reached on successor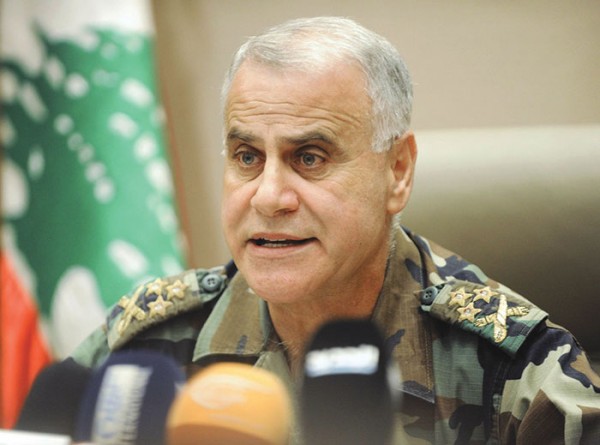 Lebanon Defense Minister Samir Moqbel vowed  to extend again  the term of Army Commander General Jean Kahwaji if the political parties fail to agree on a successor.
"Should the premier call for a September 29 cabinet session, it would be my responsibility to suggest three candidates for the army chief post," Moqbel said in remarks to MTV.
"The names will be suggested according to hierarchy and I don't have a favorite candidate. They will be suggested according to hierarchy, years of service and reputation," he added.
Asked about his similar move that preceded the extension of Higher Defense Council chief Maj. Gen. Mohammed Kheir's term and was described as a "farce" by the Free Patriotic Movement, Moqbel said the FPM is "free to say whatever it wants."
"The real farce is being practiced by those who are not going to parliament to elect a president," the minister added.
"Should the political parties fail to agree on the appointment of an army commander, my constitutional responsibilities give me the jurisdiction to take the decision of postponing the retirement of the army chief in order to prevent vacuum," Moqbel went on to say.
Asked when he would take such a decision, the minister said: "Should the cabinet fail to convene on September 29 or should it convene and fail to appoint a new chief, I am  confident that I will issue the decree before the midnight of September 29."
As for the term of Chief of Staff Maj. Gen. Walid Salman, which has already been extended twice and expires on September 30, Moqbel said he would take a similar decision should no agreement be reached over a successor.
Told that it would be illegal to extend Salman's term in light of the number of his years of service, the minister stressed that he will find a solution because he refuses to allow any vacuum in these "two key posts."
"We will find an edict that would be 100% legal," he added.
The FPM, which says it opposes term extensions for all senior officers, has recently suspended its participation in cabinet sessions in the wake of a decision by Moqbel to extend Kheir's term.
The movement has also suspended its participation in national dialogue meetings and threatened street protests and a "political system crisis" over accusations that the other parties in the country are not respecting the 1943 National Pact .
Kahwaji's term has already  been extended twice since 2013 despite objections by  FPM, which had been reportedly lobbying for the appointment of former Commando Regiment chief Brig. Gen. Chamel Roukoz as a successor to Kahwaji.
Roukoz is the son-in-law of FPM founder MP Michel Aoun ,  has already retired which disqualifies him  from being considered as a possible successor to Kahwaji