ISIS commander started to make confessions about his terror schemes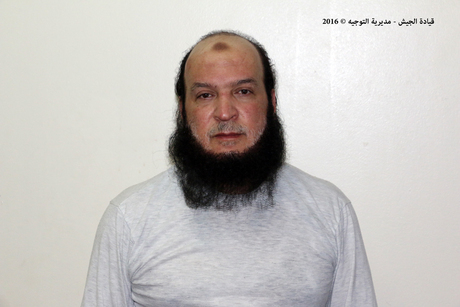 The so-called emir of the Islamic State  in the refugee camp of Ain el-Hilweh, Imad Yassin, has started to make confessions after sustaining a state of psychological shock following his arrest  and has revealed information about terror schemes that he had planned to execute, sources following up on the investigation told As Safir daily.
During the first 12 hours after his detention, Yassin was stunned and mumbling about his whereabouts and was asking: "Where am I …Who brought me here and why? I want to go back home,"As Safir reported
It  added that it took Yassin several hours to recover  as the result of his arrest during which his limbs were  shaking.
The detainee later confessed that he had planned to carry out "unprecedented" terror bombings that would target the Casino du Liban in Keserwan, the UNIFIL peacekeepers in the south, overcrowded restaurants in Down Town Beirut and in Metn, the Central Bank of Lebanon, the Electricite Du Liban facilities in Jiyyeh and Zahrani in addition to military and security positions.
Yassin has made serious confession that will remain "under wraps", said the sources because the security apparatuses are keen to exert exceptional efforts to dismantle the criminal network of Yassine  all regions.
Lebanese security forces  arrested  him  on Thursday at  a Palestinian refugee camp on suspicion he had links to the Islamic State jihadist group and was planning bomb attacks, the military said.
"He wanted to carry out terrorist attacks on several army positions, vital and tourist facilities, shopping centres, rallies and residential districts in more than one Lebanese region," the military charged.
His arrest comes  months after the Lebanese authorities  warned various Palestinian factions  last July to be wary of a scheme to destabilize the Ain al-Hilweh refugee camp, including alleged attempts by a high-profile militant to carry out terrorist attacks . The warning was relayed by the chief of Lebanese Army Intelligence, Brig. Gen. Khoder Hammoud, during a meeting with representatives of Palestinian factions , urging them for action to foil the alleged plot.
Raids
Army troops carried out raids Friday at a number of Syrian refugee gatherings in the Beirut southern suburb of Bourj al-Barajneh, National News Agency reported.
The troops raided areas in the Ain al-Sikkeh and Baajour neighborhoods which are adjacent to the Bourj al-Barajneh Palestinian refugee camp, NNA said.
"Several people were arrested for not carrying identification papers," the agency added.
Troops also checked the IDs of passersby in the area.
The crackdown comes a  preemptive move a day after Yassin's  arrest .
According to media reports, Yassin was coordinating with the IS leadership in Iraq to stage major "Iraq-like bombings" across Lebanon.
Al-Joumhouria newspaper  reported that Yasmin was also  plotting to assassinate political figures in Sidon and Beirut.