Syria truce deal in 'serious trouble' , says Russia's UN envoy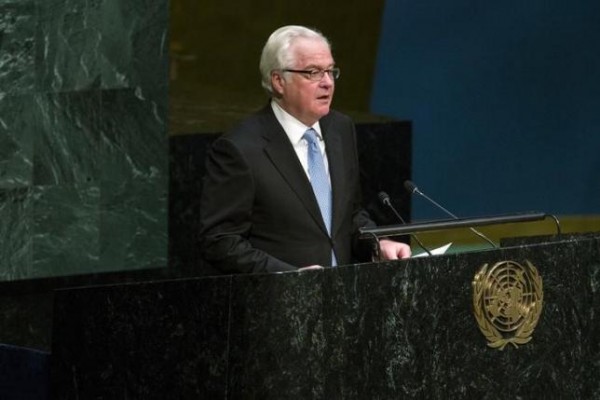 Russia's U.N. Ambassador Vitaly Churkin says the U.S. airstrike that apparently struck Syrian government troops has put "a very big question mark" over the future of the U.S. and Russian-brokered cease-fire agreement in Syria.
Churkin walked out of Saturday night's acrimonious closed emergency session of the Security Council shortly before U.S. Ambassador Samantha Power began to speak. Earlier, Power had left the chamber to speak with reporters while Churkin spoke. dismissing Russia's call for the emergency meeting as "a stunt" that is "uniquely cynical and hypocritical" because Moscow had done nothing to condemn atrocities committed by Syrian President Bashar Assad's regime.
Churkin says that in his decades as a diplomat he had "never seen such an extraordinary display of American heavy-handedness as we are witnessing today."
Churkin says the timing of the U.S. airstrike is "frankly suspicious" because it comes just two days before the U.S. and Russia were supposed to implement an agreement on military coordination in Syria and the U.S. had not previously targeted IS forces fighting Syrian government troops.
Churkin says that if Ambassador Power's actions were any indication of Washington's possible reaction then the cease-fire agreement is "in serious trouble" but expressed hope that the U.S. will find a way to convince us that it's serious about finding a political solution in Syria and fighting terrorism.
US expresses regrets
U.S. Ambassador to the United Nations Samantha Power is expressing regret for the loss of life in a U.S. airstrike in Syria that may have struck Syrian government troops, but is accusing Russia of pulling a "stunt" by calling for an emergency Security Council meeting over the incident.
Power said the U.S. is investigating the incident in remarks made outside the Security Council chamber Saturday night as Russian Ambassador Vitaly Churkin was condemning the U.S. airstrike inside the closed meeting.
She told reporters that "Even by Russia's standards tonight's stunt – a stunt replete with moralism and grandstanding – is uniquely cynical and hypocritical."
She noted that Russia had never called an emergency consultation to condemn Syrian President Bashar Assad's regime "for some of the most systematic atrocities we have seen in a generation" – striking civilian targets, preventing humanitarian aid from reaching starving people, using chemical weapons or torturing tens of thousands of prisoners.
She also says a Russian Foreign Ministry spokesperson should be "embarrassed" for issuing a statement suggesting that the airstrike indicated that the U.S. was complicit in trying to help IS.
Associated Press