Lebanese fighters in Syria urged to return home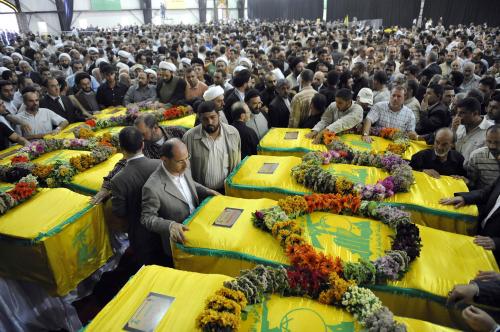 Alice Shabtini, Minister of the Displaced   urged  on Wednesday the Lebanese fighters in Syria to take advantage of the U.S.-Russia ceae-fire  deal to return to their country.
"Lebanese fighters in Syria should take advantage of the cease-fire to go back home to your loved ones  and allow the Syrians to deal with their problems on their own," Shabtini told reporters after a meeting with U.S. Ambassador to Lebanon Elizabeth Richards.
The minister emphasized the importance of non-interference in the internal affairs of neighboring states  , and wished for the Syria truce to put an  end to the bloodshed in that country.
U.S. Secretary of State John Kerry and Russian Foreign Minister Sergei Lavrov  negotiated a cease-fire effective  Monday evening .
Both Kerry and Lavrov said the complex plan is the best chance to end the five-year war that has killed hundreds of thousands of people and seen millions flee to neighboring countries.
Thousands of Hezbollah fighters  are battling alongside the Syrian government against the Syrian opposition.  Many Lebanese are also fighting for rebel and extremist groups, including ISIS.