Berri sets conditions for resumption of dialogue sessions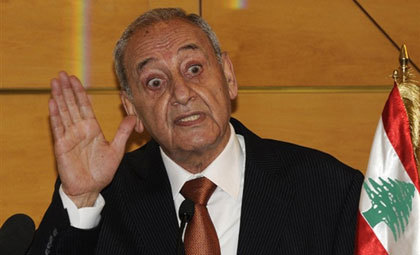 Lebanese Parliament Speaker Nabih Berri stressed on Wednesday that he will not resume the dialogue meetings unless the political parties are truly ready for serious dialogue, according to a report by Ad Diyar daily .
"I will not be calling for a dialogue session unless there was a change in the form, content and perception of the others. Until this moment I will not initiate anything until the others (politicians of the dialogue table) are ready for serious dialogue and their ideas change. Only then will I be ready because we want successful and efficient talks," Berri was quoted as saying.
Highlighting the need for dialogue between Lebanon's politicians, the Speaker added: "Dialogue provided a form of contentment in the country and produced several things, contrary to what some people say, whether with regard to the nationality issue, the law of administrative decentralization or facilitating the government's work."
He renewed calls to adopt an earlier package deal that involves the presidency, the government and the electoral law.
Berri on Monday suspended a national dialogue of rival politicians after one of the main Christian parties walked out, deepening the country's political crisis.
Berri took the decision after the withdrawal of the Free Patriotic Movement (FPM) which criticized the dialogue as pointless and condemned what it called contraventions of a national pact on sectarian power-sharing among the Lebanese.
"There is no benefit from the dialogue and its continuation, therefore we announced this position in cabinet, and we announced it now at the dialogue table," FPM leader Gebran Bassil said in a statement reported by the National News Agency.
Lebanon, which is still rebuilding from its 1975-90 civil war, has been paralyzed by a political crisis exacerbated by the conflict in neighboring Syria.
The country has been without a president for more than two years because rival groups have been unable to agree on who it should be, and Prime Minister Tammam Salam's unity cabinet has been paralyzed by divisions among its members.
The FPM is an ally of the powerful  Iranian-backed Shi'ite group Hezbollah, which claims it supports Aoun for the presidency.
The other main candidate for the position is Marada Movement leader Suleiman Franjieh, another Hezbollah ally who was nominated for the post by former PM and Future Movement leader Saad al-Hariri last year.
A row broke out between Bassil and Franjieh over the issue of Christian representation during Monday's session.