Obama, Putin in tense G20 standoff as they fail to reach a deal on Syria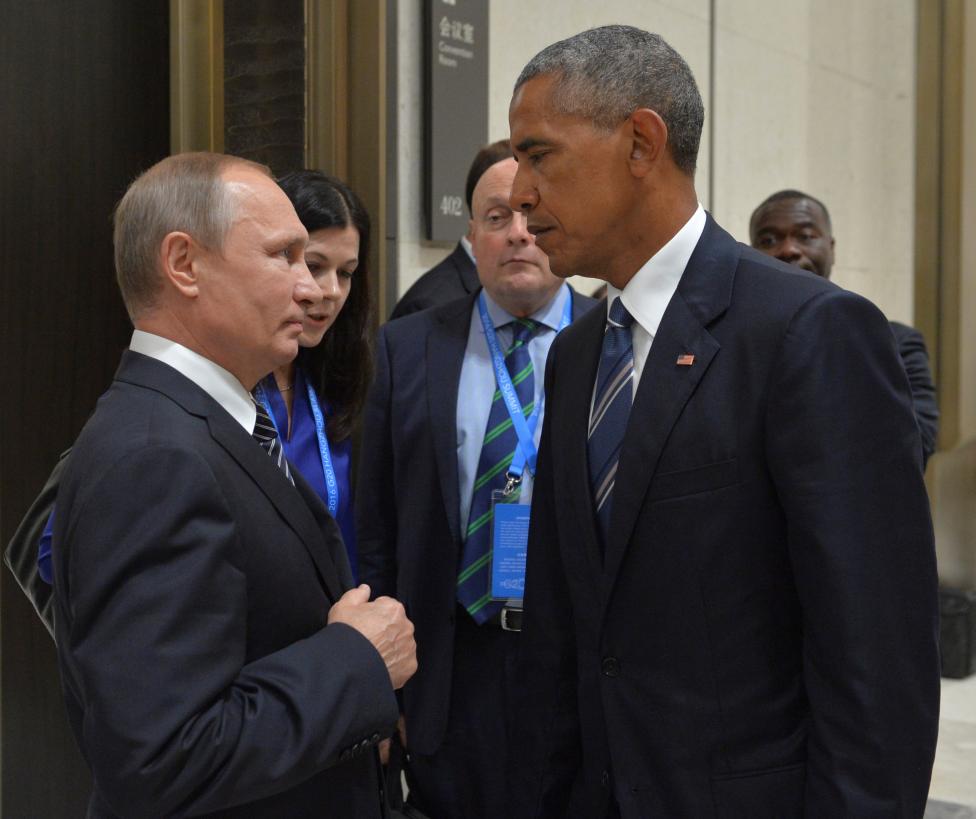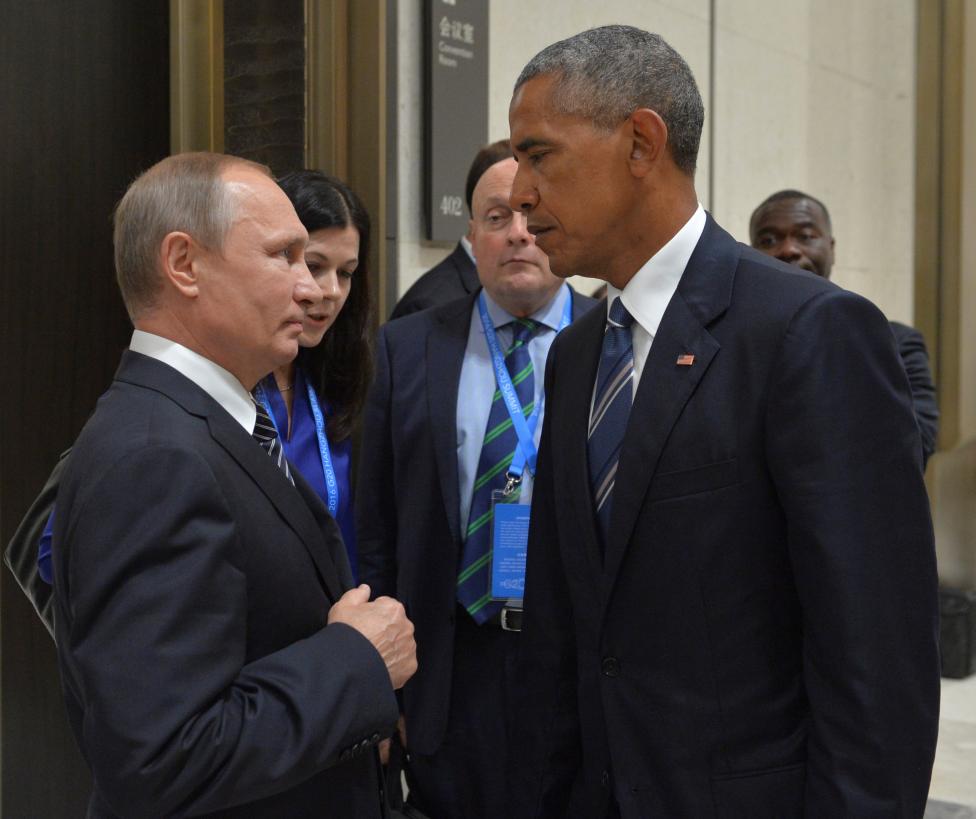 PRESIDENT Obama shared a tense exchange with Russian premier Vladimir Putin at the G20 summit in China on Monday as the two failed to agree over a ceasefire in Syria.
They were pictured shaking hands in an icy encounter at the gathering of leaders from the world's twenty biggest economies in Hangzou, according to The Sun.
It comes after weeks of talks between US and Russian diplomats have failed to turn up an agreement on bringing peace to the war-torn country.
Russia is firmly backing barrel-bombing dictator Bashar Al-Assad, providing military assistance and war planes.
America is on the side of what it calls "moderate" anti-Assad rebels and Kurdish forces leading the ground fight against ISIS.
Sly Putin could be seen grinning as he clasped hands with stony-faced Obama, who is serving the final months of his Presidency before November's election.
Relations with Russia have become central to the campaigns of Hillary Clinton and Donald Trump after the alleged hack by Moscow spooks of Democratic Party emails.
The leak of internal memos seemed to suggest a conspiracy to keep former Presidential nominee Bernie Sanders from winning the party's candidacy.
The revelations led to the resignation of Democratic National Committee chair Debbie Wasserman Schultz.
Obama's meeting with Putin resulted in an agreement to step up negotiations and intelligence sharing.
However, Obama has made it clear he doesn't believe Russia will stick to the deal after he insisted on a permanent ceasefire rather than failed temporary truces.
Tensions in Ukraine and cyber security were also discussed, but further details were not revealed.
Their exchange comes after Obama's final presidential tour of Asia began in farce when he was snubbed by Chinese hosts the moment he landed in the country.
Officials at Hangzhou airport have been accused of deliberately failing to provide a staircase for the president to disembark from air force One on Sunday.
His aides and American journalists were also hassled by state officials on the runway.
Heads of state, finance ministers and central bank governors from the world's leading economies have been meeting at the first G20 summit to be held in China.
Yesterday China's President Xi Jinping told leader's to avoid empty talk and focus on the world economy, which he described as at a "critical juncture".
Discussed at the first day of the summit were the global steel crisis, trade barriers, and the UK's Brexit plans.
Prime Minister Theresa May has faced tough stances during her first international summit as leader.
Japan is also reported to have issued No10 with a 15 page warning saying firms would leave the UK unless they are still able to trade freely with the EU's 27 other states.
Mrs May can also anticipate frosty discussions with President Xi Jinping after she postponed the Hinkley Point Nuclear Project.
A final decision on the AU$36 million nuclear plant is expected to be made later this month.
NEWS.COM.AU