Lebanese artist Yazan Halwani designed Tag Heuer's first Arabic digital watch face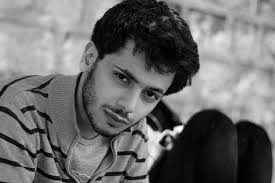 In celebration of Eid Al Adha next month, Swiss luxury brand Tag Heuer will reveal the first Arabic digital watchface for its Connected Watch Face on September 7.
The creative brains behind the design is Lebanese street artist Yazan Halwani, best-known for his mural portraits of famous Middle Eastern figures incorporating Arabic calligraphy.
"It is an honour to be the chosen Arab artist to design the TAG Heuer digital watch face," says Halwani. "Calligraphy and watchmaking have a great deal in common: both being ancient art-forms that are being reinvented in our current time. Calligraphy has stagnated in tradition, my artwork portrays the need to innovate calligraphy through a newly invented calligraphic style that is also echoed by the sentence Time Does Not Wait."
Halwani – who is seen painting in his studio in a promotional video released by Tag Heuer this month – has interpreted the phrase 'Time Does Not Wait' in his calligraphic design for the watchmaker. The imagery, colour and finished look will not be revealed until the September launch when customers who purchase a Connected watch will be able to download the new design free via a dedicated app.
The Connected watch itself is characterised by a sleek and sporty appearance, fine-brushed titanium lugs and its capability to connect to thousands of apps via touchscreen technology. Prices range from Dh5,500 for a rubber strap version up to Dh37,000 for a limited edition rose gold strap design.
Halwani joins the ranks of 13 other famous brand ambassadors who have teamed-up with Jean-Claude Biver, Tag Heuer's ceo & president of the LVMH Watch Division, to create a range of personalised watchfaces. Previous collaborators have included footballer Cristiano Ronaldo, actor Chris Hemsworth and DJ-producer David Guetta.
The national