Aoun expected to meet Hezbollah chief for first time in 2 years, report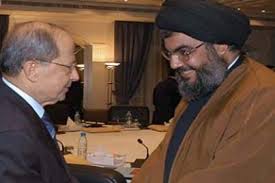 Free Patriotic Movement founder MP Michel Aoun is expected to meet with Hezbollah chief Hassan Nasrallah soon, a report by A Nahar daily said on Tuesday.
The meeting between the two allies has become "certain and imminent," March 8 sources told An Nahar newspaper, noting that Nasrallah did not meet Aoun after his famous hours-long meeting with Marada Movement chief MP Suleiman Franjieh in December.
The last meeting between Nasrallah and Aoun was held two years ago.
"Their meeting will have a packed agenda in the wake of the numerous domestic and regional changes and the latest rift between the party's two allies – the FPM and Marada," the sources added.
A row broke out between FPM chief Gebran Bassil and Franjieh over the issue of Christian representation during Monday's dialogue session. "Parliament Speaker Nabil Berri suspended the dialogue indefinitely on Monday … after a verbal row between two Christian leaders," an official said.
Lebanon, which is still rebuilding from its 1975-90 civil war, has been paralyzed by a political crisis exacerbated by the conflict in neighboring Syria.
The Lebanese parliament failed again last month and for the 43rd time in a row to elect a president to replace Michel Suleiman whose term ended on May 25 , 2014.
As in the past sessions the parliament was unable to reach a quorum because the Iranian-backed Hezbollah militant group and its ally Aoun's Change and Reform bloc MPs boycotted the session, because they could not reportedly guarantee Aoun's election as a president.
Amal Movement leader, Speaker Nabih Berri a key ally of Hezbollah postponed the election to September 7, 2016.
Lebanese Forces leader Samir Geagea who was the first to announce his presidential bid and who later decided to back Aoun in order to end the impasse , said after the failed election last month.
" Neither Hezbollah nor Iran want a president , not even Aoun despite the fact that the FPM founder has the votes to guarantee his election."
Iran's influence in Lebanon is at odds with all the countries supporting opposing political camps.