US urges Americans in Gaza Strip to leave "as soon as possible"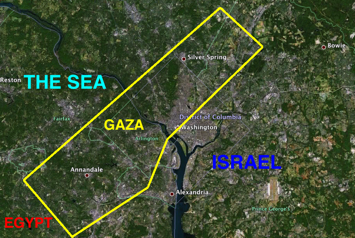 The United States on Tuesday called on Americans in the Gaza Strip to leave the coastal enclave "as soon as possible."
Palestinians militant and the Israeli military have not engaged in a conflict since the seven-week war that began in July 2014 and left more than 2,200 Palestinians and 70 Israelis dead but flare-ups have been intermittent, particularly on the border between the two territories.
The U.S. State Department said that Americans in Gaza should enter into Israeli or Egyptian territory when they could due to the security threat to its citizens.
It warned Americans against "all travel" to Gaza and "urges those present to depart as soon as possible when border crossings open."
The travel warning statement continued: "Gaza is under the control of Hamas, a foreign terrorist organization. The security environment within Gaza and on its borders is dangerous and volatile."
The warning comes after the latest flare-up between Palestinian militants and the Israeli military over the weekend. On Sunday, Palestinian militants fired a rocket that landed in the Israeli border town of Sderot. Israel responded with dozens of strikes against Hamas targets in the coastal enclave.
Four people were wounded in the strikes, according to Palestinian medical officials. No injuries were caused by the rocket that landed in Israeli territory.
The Israeli military says that Palestinian militants have fired 14 rockets into Israeli territory since the beginning of the year.
While Hamas has not been responsible for all of the rocket fire, Israel views any rocket fire emanating from the territory as the Islamist militant group's responsibility as it presides over the coastal enclave.
A number of the rockets have been fired by salafists opposed to Hamas and aligned to the ideology of the Islamic State militant group (ISIS).
NEWSWEEK