Berri, Nasrallah reportedly met over presidency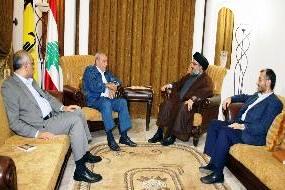 Lebanese media reported  on Friday that Speaker Nabih Berri and Hezbollah leader Hassan Nasrallah have met recently  and that the meeting came after the two men's latest stances over the election of a president, al-Liwaa daily said.
Neither the timing of the meeting  nor the location were  disclosed.
The meeting may have come after Berri  last week voiced support for the re-designation of Future Movement leader and former PM Saad Hariri as prime minister, after   Nasrallah said  that his party is "open to discussing" the issue of the premiership should an agreement be reached over the presidency.
Berri also stressed that he supports Hariri's nomination of Marada chief Suleiman Franjieh for the top state post, al-Liwaa daily added
Nasrallah claimed in a speech on Saturday that his party remains committed to the presidential nomination of Free Patriotic Movement founder MP Michel Aoun while stressing that Speaker Nabih Berri is Hezbollah's only candidate for the parliament speaker post.
He also  hinted in his speech that Hezbollah  does not oppose  the appointment of Hariri as premier in return for the election of Aoun as president and the re-election of Berri as parliament speaker.