Over 17,000 Killed in Syrian Government Jails: Rights Group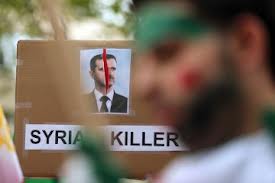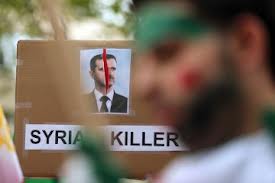 The young Syrian activist was beaten, prevented from going to the toilet and saw her cellmates taken for rounds of whipping when she was held for more than a month in several government detention facilities.
Still, Lama is considered lucky, as more than 17,000 detainees have died in the government's custody over the past five years as a result of torture, diseases and other causes, according to a report released Thursday by the London-based Amnesty International.
The report, titled "'It breaks the human," includes interviews with 65 torture survivors who described abuse and inhuman conditions in security branches operated by Syrian intelligence agencies and in Saidnaya Military Prison, near Damascus.
It said common methods of torture included forcibly contorting the victim's body into a tire and flogging on the soles of the feet. The authorities also used electric shocks, rape and sexual violence, the pulling out of fingernails or toenails, scalding with hot water and cigarette burns.
"The catalogue of horror stories featured in this report depicts in gruesome detail the dreadful abuse detainees routinely suffer from the moment of their arrest, through their interrogation and detention behind the closed doors," said Philip Luther, director of Amnesty International's Middle East and North Africa program.
"This journey is often lethal, with detainees being at risk of death in custody at every stage," he said. He urged the international community to bring these abuses to the top of the agenda in talks with both the government and armed groups.
The abuses date back to the start of the Syrian uprising against President Bashar Assad in March 2011. The government's harsh crackdown on dissent and the rise of armed opposition groups eventually ignited a civil war that has killed more than 250,000 people, displaced half the country's population and generated more than 4.8 million refugees.
Lama, who now lives in Europe and asked to be identified only by her first name for fear of retribution, told The Associated Press by telephone that she was hit with a thick stick five times on her shoulder during her 41-day detention that ended on Jan. 7, 2015. She said a fellow detainee was repeatedly whipped, leaving marks on her back, and another was raped by her interrogator.
"I consider myself lucky," she said, adding that one detainee who shared the small cell with her and others had an 18-month-old daughter. Lama was moved through four detention facilities, including Saidnaya, before being released. Her only crime was taking part in anti-government protests.
Lama said some days she received bread, boiled potato and a tomato, and other times was given rice with boiled carrots and cauliflower. Lama said infants had to eat the same food as adults and if anyone got sick there were no doctors to check on them.
She said that a diabetic woman who had to frequently go to the toilet used a bucket to urinate.
The Amnesty report highlights new statistics from the Human Rights Data Analysis Group, or HRDAG, an organization that uses scientific approaches to analyze human rights violations, which indicate that 17,723 people died in custody across Syria between March 2011 and the end of 2015.
"With tens of thousands of people forcibly disappeared in detention facilities across Syria, the real figure is likely to be even higher," Amnesty said.
NY TIMES