Hezbollah chief backs Trump's claim that Obama founded Isis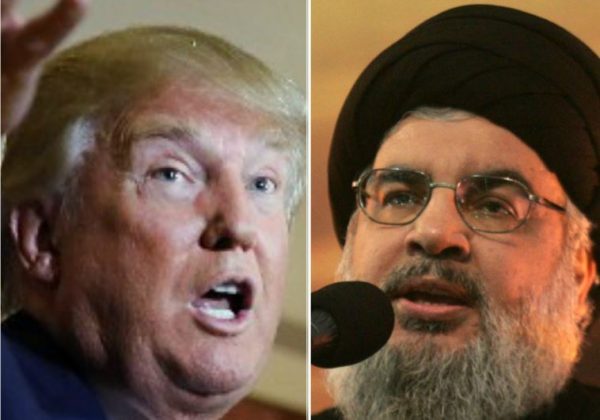 Donald Trump has found at least one supporter for his allegation that the US administration founded Isis.
The leader of Lebanon's militant Hezbollah group quoted Trump at a rally in the south of the country, saying the presidential candidate's statements were based on facts.
Hassan Nasrallah said: "This is an American presidential candidate who is saying this. What he says is based on facts and documents."
Trump described President Barack Obama as the "founder" of Isis. Trump later said the claim was intended as sarcasm.
Nasrallah, who has sent thousands of his fighters to Syria to shore up President Bashar Assad's forces, has long claimed that the US helped create and fuel the rise of Islamic extremists to destabilize the Middle East.
Trump's comments have led to a growing alienation among the Republican Party.
As he skips from one gaffe to the next, GOP leaders in Washington and in the most competitive states have begun openly contemplating turning their backs on their party's presidential nominee to prevent what they fear will be wide-scale Republican losses on Election Day.
Republicans who have devoted their professional lives to electing GOP candidates say they believe the White House already may be lost. They're exasperated by Trump's divisive politics and his insistence on running a general election campaign that mirrors his approach to the primaries.
"Based on his campaign record, there's no chance he's going to win," said Sara Fagen, the political director for former President George W. Bush. "He's losing groups of people he can't get back."
Trump's campaign says things are moving in the right direction, a position that itself feeds the discontent among his GOP detractors. The billionaire businessman's loyalists say enough time remains to change the dynamic against Democrat Hillary Clinton who, like Trump, is deeply unpopular with voters.
And his backers are blaming the media for the perception that all is not well.
"Frankly, a lot of stuff over the last week … it's him being distorted," said Trump's campaign chairman, Paul Manafort. "For the last week or so, he's been very focused and very much on his game."
Trump did show some modest improvement as a candidate in the past week. He has stopped criticizing a Muslim family of a fallen U.S. soldier. Gone are the fights with some of his party's most respected members of Congress.
But also in the past seven days, Trump has questioned the advice of senior aides, threatened to stop raising money for the party, dismissed the usefulness of get-out-the-vote efforts and defended his decision not to run any television ads even as his opponents fill the airwaves with spots backing Clinton in several contested states.
Independent UK