Several Hezbollah fighters killed in Ramouseh, Aleppo , Syria: Report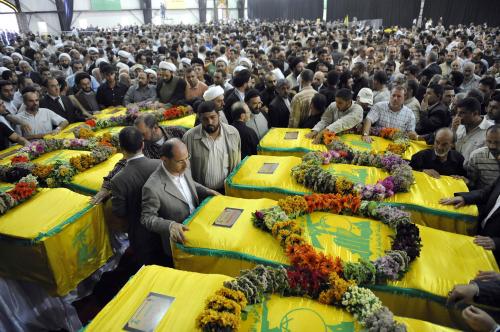 "Okaz" newspaper reported that "several families in the southern Beirut suburb of al Dhahieh had been notified of the death of their sons in the fighting in Ramouseh Aleppo over the past few hours.
The number of the families that were notified exceeds 10 according to the report.
A case of confusion, outrage and and silence was reported in al Dhahieh after the failure of Hezbollah and the Syrian army in the attack on Ramouseh hill . Hezbollah in Lebanon reportedly lost contact with its fighters in the Ramouseh battle . Free Syrian Army commander , Ahmed Hammadi confirmed to "Okaz", "that the Hezbollah group, which launched a major offensive against the rebels in Ramouseh have been liquidated entirely and no prisoners have been take from this group.
According to media reports the Syrian Armed Forces, alongside Hezbollah and Harakat Al-Nujaba (Iraqi Shiite militia group ), launched Thursday their long-awaited counter-offensive in Ramouseh, southern districts of Aleppo City.
According to the reports the Syrian Armed Forces were led by their elite Tiger Forces .
Lebanon's Hezbollah movement reportedly decided last Sunday to send 400 more fighters to Syria's Aleppo area, a battleground where it has suffered heavy losses while fighting alongside Syrian government forces against the rebels who united to break Assad's siege of Aleppo.
Hezbollah chief Hassan Nasrallah said last month:
"We are facing a new wave of projects of war against Syria which are being waged in northern Syria, particularly in the Aleppo region."
"The defense of Aleppo is the defense of the rest of Syria, it is the defense of Damascus, it is also the defense of Lebanon, and of Iraq," he said.
"We will increase our presence in Aleppo," he said. "Retreat is not permissible."
Shiite, Iranian-backed Hezbollah has long supported President Bashar al-Assad against mostly Sunni insurgents.
Aleppo has been a focus of intensified fighting in the months since peace talks in Geneva broke down and a ceasefire deal brokered by Washington and Moscow unraveled. Russia intervened in the five-year-old conflict in September with an air campaign to support Assad.
Hezbollah reportedly lost in the Aleppo dramatic attack Abu Eassa , who is considered one of their top commanders in the area.