Former MP Hassan Yaaqoub released on bail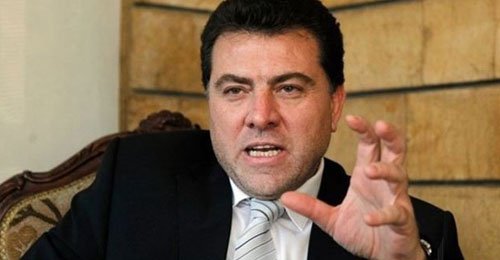 Ex- MP Hassan Yaaqoub was released on bail Monday after he spent around seven months in jail on charges of orchestrating the kidnapping of Hannibal Gadhafi,  son of slain Libyan leader Moammar Gadhafi.
"Under the chairmanship of Judge Afif Hakim, the Mount Lebanon Accusatory Body has approved a ruling ordering the release of ex-MP Hassan Yaaqoub on LBP 30 million bail, which had been signed by Examining Magistrate Ziad Makna,"  National News Agency reported.
Shortly after the ruling was approved, Yaaqoub headed from the Sacre Coeur Hospital in Hazmieh where he was residing   to a protest tent outside the Higher Islamic Shiite Council on the airport road, where his family had been observing an 80-day long sit-in demanding his release.
The former lawmaker received a hero's welcome at the location, with his supporters and relatives launching firecrackers and firing celebratory gunshots into the air.
"For 38 years now, Gadhafi has been Lebanon's enemy, in speeches and according to the law, and the person who is in prison now is Gadhafi's son," Yaaqoub said, in an apparent attempt to justify the abduction of Hannibal Gadhafi.
"Why was the family of Sheikh Mohammed Yaaqoub treated in this manner?" the ex-MP added, referring to his father who disappeared while accompanying revered Shiite Imam Moussa al-Sadr on a 1978 trip to Libya.
Moammar Gadhafi was largely accused of being behind the kidnap of al-Sadr, Yaaqoub and the journalist Abbas Badreddine who was accompanying them. Lebanon's judiciary officially indicted Gadhafi in 2008 with involvement in the disappearance of the three men.
"The monuments of flesh and blood will roll under feet," Yaaqoub added, slamming those who "remained silent" while his family was staging street protests to demand his release.
"Talk has ended and actions will start and we will settle scores," the ex-MP went on to say.
Hannibal was kidnapped in a Syrian area near the Lebanese border on December 11 before being smuggled into Lebanon's Bekaa region. He was handed over hours later to Lebanese security forces. An arrest warrant was issued for him on December 14 and he has since remained in prison.
He was charged with "withholding information linked to the case of Imam Moussa al-Sadr." A lawsuit was also filed against Hannibal on December 14 by the lawyer of al-Sadr's family.
During interrogation, Hannibal "confessed that the Libyan regime was involved in the abduction of Imam al-Sadr, naming the person who impersonated the imam and traveled to Rome" in 1978, according to LBCI television.
He noted that "the sources of his information were his brother Seif al-Islam and intelligence official Al-Mutassem Billah," LBCI said.
Al-Jadeed TV quoted Hannibal as telling a judge that al-Sadr "was detained in a house in (Libya's) Tripoli" and that he "never left for Rome."
"My father blamed (former Libyan premier) Abdul Salam Jalloud in the case of al-Sadr's disappearance," Hannibal told a judge, according to al-Jadeed. The TV network said Hannibal told the judge that his brother Mutassem, who was killed during Libya's uprising, "had information about Imam al-Sadr."
"The man who impersonated the imam and wore his clothes to travel to Rome is a well-known figure who currently lives in an Arab country," Hannibal added, according to al-Jadeed.
Jail was a joke
Yaqoub was staying in a first class room at the Sacre Coeur Hospital in Hazmieh. Ya  Libnan was able to determine from interviews with some of his guards at the hospital that he was perfectly healthy and did not receive any medical treatment  whatsoever during his stay at the   Sacre Coeur hospital . The guards revealed that the  jailing of  Yaqoub was completely political and Speaker Nabih Berri was behind it .