Former Saudi general makes rare Jerusalem visit, meets Israeli officials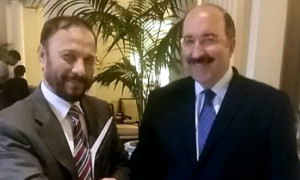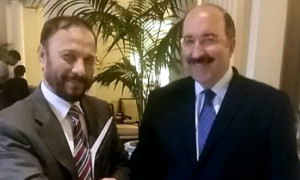 Israel's Foreign Ministry says a senior official has met with a visiting former military general from Saudi Arabia. The meeting marks a rare public engagement between countries that have no official relations.
Foreign Ministry spokesman Emmanuel Nahshon says Sunday that Director General Dore Gold met with Anwar Eshki at a Jerusalem hotel. Eshki currently heads a Saudi think tank in Jeddah but is believed to have close ties with the kingdom's rulers. Official government permission was likely necessary for him to make such an overt visit.
Saudi Arabia has floated a plan for a comprehensive peace agreement between Israel and its Arab neighbors. It has unofficially grown closer to Israel in recent years over their shared concerns regarding Iran.
The Associated Press
Update :
According to a report by Israeli Haaretz newspaper    ,  Eshki was accompanied by a delegation of Saudi business people and academics.
During the visit they reportedly met with members of the Knesset to discuss advancing the prospects of the Arab peace initiative, said Haaretz. Additionally, Eshki travelled to Ramallah to meet with Palestinian Authority President Mahmoud Abbas.
Friday's meeting, arranged by left-wing Meretz MK Esawi Freige, was held at Jerusalem's King David hotel. It was attended by Zionist Union MKs Omer Bar-Lev and Ksenia Svetlova as well as another Meretz MK Michal Rozin, said Haaretz.
Freige, Rozin and Svetlova told Haaretz following the meeting that the Saudi delegation desired to advance discourse on the Arab peace initiative.
"The Saudis want to open up to Israel," Freige told Haaretz. "This is a strategic step for them. They said they want to continue what former Egyptian President Anwar Sadat started. They want to get closer to Israel. This is clearly evident."
The peace proposal put forward by the late King Abdullah, known as the Arab Peace Initiative, offered Israel blanket recognition from 22 Arab states in return for an independent state for the Palestinians.
The Arab League proposal — based on a Saudi peace proposal — also stated that East Jerusalem should be the capital of a future Palestinian state.
The Saudi delegation also reportedly met Palestinian President Mahmoud Abbas and other senior officials in Ramallah according to Haaretz