Gunmen kill at least eleven in Munich shopping mall, shooters on the run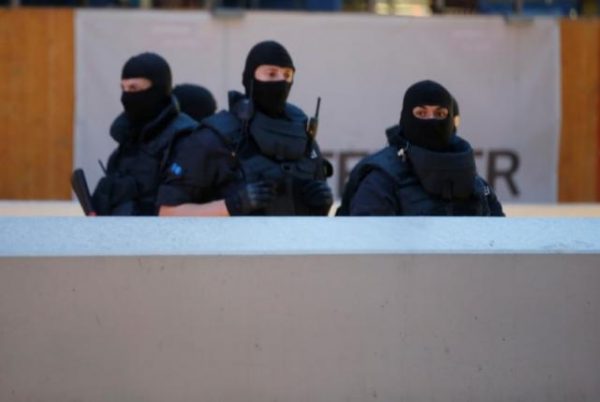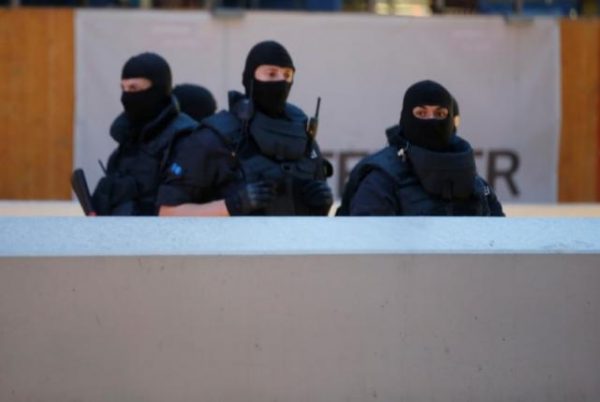 Gunmen attacked a busy mall in the German city of Munich on Friday evening, killing at least 11 people and sending shoppers running for their lives from what police said was a terrorist attack.
Authorities told the public to get off the streets as the city – Germany's third biggest – went into lockdown with transport halted and highways sealed off.
A police spokesman said three gunmen were on the run after the initial shooting subsided. The city was placed under a state of emergency as police hunted for them.
"We are telling the people of Munich there are shooters on the run who are dangerous," he said. "We are urging people to stay indoors."
Police said later that eight people had been killed and an undetermined number wounded. A ninth body had also been found and they were checking to see it was one of the gunmen.
Munich newspaper TZ said one of the shooters was dead. German news magazine Focus said a gunman had shot himself in the head. Reuters could not immediately confirm either report.
As special forces deployed in the city, some people remained holed up in the Olympia shopping center which police said had been evacuated.
"Many shots were fired, I can't say how many but it's been a lot," said a shop worker hiding in a store room inside the mall.
It was the third major act of violence against civilians in Western Europe in eight days. Previous attacks in France and Germany were claimed by the Islamic State militant group.
A police spokesman said there was no immediate indication that it was an Islamist attack but it was being treated as a terrorist incident.
Friday is also the five-year anniversary of the massacre by Anders Behring Breivik in Norway in which he killed 77 people. Breivik is a hero for far-right militants in Europe and America.
IS SUPPORTERS CELEBRATE
There was no immediate claim of responsibility but supporters of Islamic State celebrated on social media.
"The Islamic state is expanding in Europe," read one Tweet.
Two witnesses told n-tv television that they saw a man dressed as Santa Claus walking away from the scene of the shooting with a crowd of people. One said the man had blonde hair, was not carrying a weapon but had a suitcase.
A video posted online – whose authenticity could not be confirmed – showed a man dressed in black outside a McDonalds by the roadside, drawing a handgun and shooting towards members of the public.
A worker at a shop in the mall, Harun Balta, said: "We are still stuck inside the mall without any information, we're waiting for the police to rescue us."
Police spokeswoman said six people were killed and an undetermined number wounded. They were treating it as a terrorist incident.
Witnesses had seen shooting both inside the mall and on nearby streets, he said.
Munich's main railway station was also evacuated. BR television said police had also sealed off many highways north of Munich had been shut down and people were told to leave them.
The shopping center is next to the Munich Olympic stadium, where the Palestinian militant group Black September took 11 Israeli athletes hostage and eventually killed them during the 1972 Olympic Games.
Friday's attack took place a week after a 17-year-old asylum-seeker wounded passengers on a German train with an axe. Bavarian police shot dead the teenager after he wounded four people from Hong Kong on the train and injured a local resident while fleeing.
German Justice Minister Heiko Maas told Bild newspaper's Friday edition before the mall attack that there was "no reason to panic but it's clear that Germany remains a possible target".
The incidents in Germany follow an attack in Nice, France, on Bastille Day in which a Tunisian drove a truck into crowds, killing 84. Islamic State claimed responsibility for that attack.
Norwegian Foreign Minister Borge Brende said on Twiiter: "Horrible killings in Munich. Taking place on the same day as we mourn & remember the appalling terror that hit Norway so hard five years ago."
U.S. President Barack Obama pledged support for Germany.
"We don't yet know exactly what's happening there, but obviously our hearts go out to those who may have been injured," Obama said.
REUTERS