Aoun 'still dreaming' of presidency, Future Movement says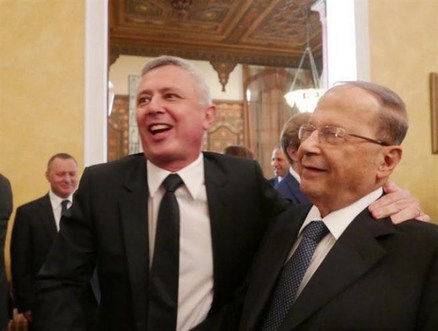 Future Movement bloc MPs said that Free Patriotic Movement founder MP Michel Aoun can only "dream" of being elected president, despite his effort of trying to woo the Muslim community
"Aoun is still dreaming of becoming president," Future Movement bloc MP Ahmed Fatfat told al-Joumhouria newspaper in remarks published Saturday.
"At the personal level, we do not have a problem with Aoun, but it is out of the question to endorse him for the presidency for reasons related to his political course," Fatfat added.
"When he rose to power in 1989 and 1990 we witnessed the Elimination War and the Liberation War," the lawmaker reminded.
Turning to Aoun's political conduct in the period that followed his return to Lebanon in 2005, Fatfat slammed the performance of FPM's ministers, saying they "behaved maliciously and incompetently" and that they "failed to improve the energy and telecom sectors."
The MP also cited "all of Aoun's declared political affiliations and his extreme adherence to the Iranian policies and Hezbollah."
"Large segments of Future Movement are unwilling to endorse Aoun," Fatfat announced.
In remarks to al-Liwaa newspaper, Future Movement bloc MP Ammar Houry also described Aoun's presidential ambitions as mere "dreams."
Change and Reform bloc MP Nabil Nicola however told al-Joumhouria that "day after day, it is becoming clearer that the only person who can rally all people is General Aoun."
Asked about the visits that Aoun paid Wednesday to Speaker Nabih Berri and Grand Mufti Sheikh Abdul Latif Daryan, Nicola described them as Eid al-Fitr protocol visits but noted that "the General's chances are surging regardless of all these visits."
Change and Reform parliamentary sources meanwhile told al-Liwaa that "the latest domestic moves bring the presidential seat closer to General Aoun although nothing is final yet."
"Further deliberations are needed," the sources added, noting that Aoun will continue his political contacts.
The sources also noted that "no meeting has been scheduled between him and (Future Movement leader) former PM (Saad) Hariri, although some parties are seeking to get them to communicate directly ."
There has been speculation in the country that the latest rapprochement between Aoun and Berri could lead to an agreement over the stalled presidential election or the parliamentary polls, but a recent development indicates otherwise
A recent visit by pro-Damascus MP Assem Qansou of the Baath Party to Marada Movement chief MP Suleiman Franjieh reportedly came after Syrian "dismay" over the recent meetings that Aoun held in Beirut with the Muslim leaders, a media report said on Saturday.
"The visit reflected signals from the leadership of the Baath Party in the Syrian capital and the dismay of Damascus, and maybe its other allies, over Aoun's latest tour," the Kuwaiti newspaper al-Anbaa reported.
Aoun visited , Berri and Grand Mufti Sheikh Abdul Latif Daryan on the first day of Eid al-Fitr on Wednesday and also held talks on the same day with Saudi Ambassador to Lebanon Ali Awadh Asiri.
After talks with Franjieh in Bnashii on Thursday, Qansou announced that the Marada leader "is the guarantee."
"We came here today to emphasize this communication between us and Suleiman Beik and to stress that we share the same policy and support for the resistance," Qansou said.
The Lebanese parliament failed against last month and for the 41st time in a row to elect a president to replace Michel Suleiman whose term ended on May 25 , 2014.
As in all the previous sessions the parliament was unable to reach a quorum because the Iranian-backed Hezbollahmilitant group and its ally MP Michel Aoun's Change and Reform bloc MPs boycotted the session, because they could not reportedly guarantee Aoun's election as a president.
Berri postponed the election to Wednesday July 13th.