Lebanese entrepreneurial spirit reflected in its tourism industry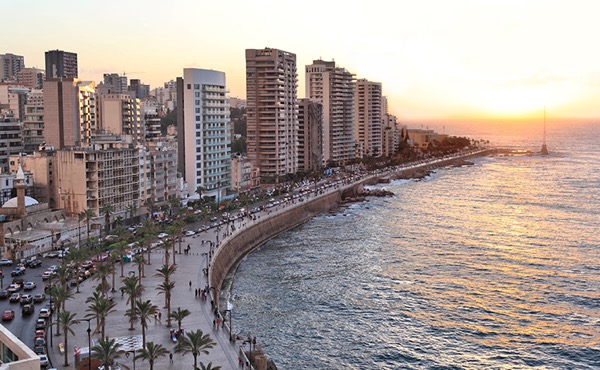 By Rani Singh
When asked this question—"What is Lebanon's largest export?"—what would the correct answer be?    According to Richie Santosdiaz, Global Trade & Investment Expert from PA Consulting Group and adjunct trade lecturer in London, "Lebanon exports products such as gold, jewellery and refined petroleum, as well as having a strong and growing services industry.  However, for many countries, including Lebanon, it has also historically been its people."  In fact, the Lebanese diaspora, those living outside the country, is estimated to be around 12 million (with nearly half of them in Brazil alone). This is quite significant as the country itself is home to approximately only four million Lebanese.  The diaspora has produced prominent leaders in politics, business, entertainment, medicine and other industries where the Lebanese call 'home.'  Santosdiaz says, "Many of the diaspora do go back to visit Lebanon, and quite a few return permanently, bringing back the knowledge and skillset they learned overseas. This knowledge sharing in the present and long-term can bring great benefits for the Lebanese economy in its future redevelopment."
The Lebanese diaspora has represented a significant proportion of tourists visiting Lebanon, especially in the summer months.  However, with the rebuilding of the country there are tourists visiting Lebanon, not just from the diaspora in places like the U.S.A., Australia and France, but also from neighboring countries in the Middle East and beyond. This has raised the profile and demand for tourism in Lebanon and "brand Lebanon."  Despite recent issues in neighbouring Syria, and with a decline in visitors from other Middle Eastern countries, there has been direct growth in the Lebanese tourism industry of 12.1% with 1.52 million visitors.  There will be strong demand not only from the large Lebanese diaspora but also interest to grow the tourism industry in new markets both outside the diaspora group and outside of the Middle East.
Tourism and travel in Lebanon is a major player in the country's economy. Its total contribution to Lebanon's GDP is approximately 20%. Significant private investment is currently being made in the modernization and expansion of this sector and international hotel companies have returned to Lebanon. This is helping the capital of Beirut, for instance, retain its former unofficial title of the "Paris of the Middle East," an unofficial title it held before the Lebanese Civil War from 1975-1990.
For a country small in size, Lebanon offers a wide range of options for tourists and visitors.  There is of course cosmopolitan Beirut, which offers world class dining, hotels and a famous nightlife.  The city offers visitors a rich history of its past, present and vision of the future.  Throughout the rest of Lebanon beyond Beirut are stunning beaches, mountain ranges and jaw-dropping natural beauty. An interesting fact, for instance, is that Lebanon is the only country in the Arab world that offers skiing and related winter sports activities as well as wonderful beaches allowing you to go to the snow and sand in the same day.  "For any country to have such a diverse range of offering, in this case within the tourism industry, gives Lebanon such strength in terms of future growth and opportunities to maximize the sector as a whole," Santosdiaz says.
Lebanese entrepreneurs are not only capitalizing on the growth of the traditional tourism industry, such as running hotels, restaurants, and other common services for tourists, but also the modern day 21st century that caters to a technologically advanced world. This includes both young Lebanese who are eager to set up new businesses and also those who left Lebanon and have returned to share the knowledge they learned abroad in setting up businesses.
For example, a Lebanese company, TouristTube™, offers a unique online platform for tourists that allows individuals from all around the world to post reviews, videos and photos to archive their trip, connect with others and discuss destinations of interest.  According to TouristTube founder Michel Sfeir, "TouristTube™ integrates one-stop-shop online services and social media features particularly designed for tourists and tourism businesses. With user-friendly interfaces, TouristTube™ will allow tourists to streamline their travel experience with the innovative TouristTube Bag™."  Michel Sfeir himself lived, worked and founded companies in France before returning to Lebanon to set up his own businesses in the rising tech industry.
Another Lebanese company, Brate.com, identifies what is hottest at any one moment in 117 cities across the Middle East, North Africa, San Francisco and London. The platform is available in English, French and Arabic and has seen traffic almost triple in a year to 1.3 million. After meeting in Saudi Arabia four years ago, the two co-founders Shadi Tabbara and Sameeh Harfoush conceived the idea for Brate.com—a combination of browse and rate—over drinks in Hamra, dreaming up a local search engine with a rating system and the possibility of adding live deals.
Both companies, in the Lebanese entrepreneurial spirit, have global aspirations.  Not only were companies like Brate.com conceived overseas but, in addition to expanding abroad, both are proudly Lebanese.  Both TouristTube and Brate.com are currently taking part in the UK-Lebanon Tech Hub, a joint initiative by Banque du Liban (Lebanon's Central Bank) and the UK government. They are also part of the accelerator programme in Beirut and London.  According to the UK Programme Manager of the UK Lebanon Tech Hub Marta Solorzano, "Tourist Tube and Brate are two of our international accelerator companies that are showing great potential and capability to scale and penetrate international markets; this is why they were selected from a cohort of 45 companies to spend six months in London giving them exposure and access to the UK and international markets.'
Despite the current problems in neighbouring Syria, the tourism industry has much potential in Lebanon.  This doesn't just apply to the increase in hotels, restaurants and other services that cater to visitors from abroad. It is also shown by the fact that apps and websites symptomatic of today's modern 21st century are proving instrumental in easing the travel process.  The Lebanese, in true entrepreneurial spirit, are not only starting their businesses in Lebanon but are also having global aspirations when doing so.
First published in Forbes Middle East