'Proud' Obama ready to 'pass the baton' to Clinton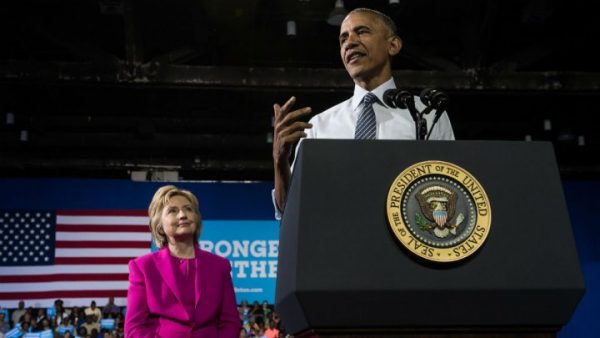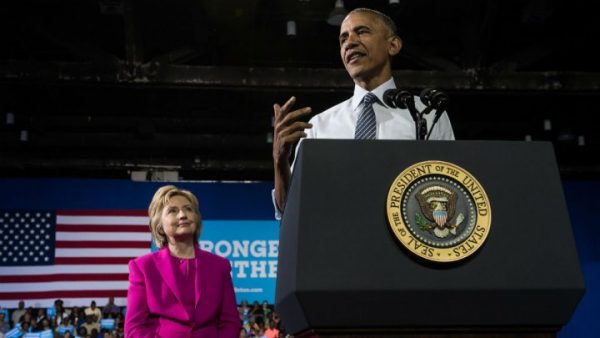 Barack Obama delivered a forceful plea Tuesday for Hillary Clinton to succeed him as president, praising the character of his former secretary of state whose horizon brightened after the FBI recommended no charges be filed over her email scandal.
Obama, returning to a swing state that helped elect him in 2008, laid out a passionate, compelling case declaring he is "ready to pass the baton" to Clinton and urging voters to make her the nation's first female commander in chief.
"I'm here today because I believe in Hillary Clinton," Obama told a fired-up crowd at a rally in Charlotte, North Carolina, pumping his fist and leading chants of "Hillary! Hillary!"
"There has never been any man or woman more qualified for this office. Ever!"
But Obama's debut appearance on the 2016 campaign trail, which showcased his trademark oratory and communication skills, was overshadowed by the extraordinary announcement hours earlier in Washington.
The FBI's assessment, which found that Clinton was "extremely careless" in sending classified information via her personal email account, was far from the complete exoneration that she had hoped for as she rallied Democrats in her showdown with Republican Donald Trump.
Clinton and Obama flew together to North Carolina aboard Air Force One for the first in a series of high-profile rallies that the candidate hopes will energise voters – particularly minorities who remain enamoured with the outgoing president, in crucial battleground states where the November election will be decided.
Neither made any mention of the FBI's bombshell decision to recommend that Justice Department prosecutors file no criminal charges in the Clinton email investigation.
FBI Director James Comey said that after an exhaustive probe, carried out with no political agenda, investigators found no evidence of "intentional misconduct" by Clinton or her close aides, and that "no reasonable prosecutor would bring a case" against her.
Clinton spokesman Brian Fallon said the campaign was "pleased" by the FBI's recommendation. But in a damaging rebuke to the former top diplomat, Comey said the FBI found that Clinton and her team "were extremely careless in their handling of very sensitive, highly classified information".
Trump sticks to his guns
Comey's conclusion that Clinton sent and received information that was deemed classified, and in some cases top secret, contradicts her repeated assertion that she never sent classified information through her personal email account or own server.
While not as legally damaging as prosecution would be, Comey's judgment is far from the all-clear that the Clinton team would have hoped for.
And the FBI accusations of carelessness fuelled Trump's narrative that the Clintons have operated above the law for years.
"She was guilty, and it turned out that we're not going to press charges. It's really amazing," Trump said in North Carolina, where he held a competing rally in Raleigh.
"Today is the best evidence ever that we've seen that our system is absolutely, totally rigged," he said, adding that Clinton "is laughing at the stupidity of our system".
The billionaire reality TV star said the former top US diplomat should not be eligible to seek high office due to her handling of work emails while at the State Department's helm.
"This, again, disqualifies her from service. And just think of it. I mean, how can you have this?" Trump asked.
"We know now that these deletions include emails that were work-related and one big, fat, beautiful lie by crooked Hillary. Any government employee who engaged in this kind of behaviour would be barred from handling classified information," Trump argued.
With just three weeks until the Democratic convention formally anoints Clinton as the party nominee, other Republicans have also seized on the email case to highlight her perceived lack of trustworthiness among voters.
House Speaker Paul Ryan slammed Clinton for "recklessly mishandling" classified information and saying Comey's announcement defies explanation.
"Based upon the director's own statement, it appears damage is being done to the rule of law," warned the top Republican.
'Couldn't be prouder'
The former first lady already came under recent fire after it emerged that her husband Bill met briefly with Attorney General Loretta Lynch at an airport in Arizona last week — prompting Republicans to cry foul over possible government interference with the probe.
Clinton meanwhile sought to reset her campaign with her joint appearance with Obama and move on from the controversy.
The president is at his highest approval rating in years and can still rally the Democratic base, crucial for Clinton whose popularity is deep in the red, as is Trump's.
Obama proved her all-too-capable attack dog, tearing into Trump and labelling the provocative billionaire as an untested, impatient blowhard without the temperament for the Oval Office.
"Everybody can tweet, but nobody actually knows what it takes to do the job until you sit behind the desk," Obama said in a swipe at Trump's propensity to fire out his reactions on Twitter.
Appealing to working American families, the president warned: "The other side's got nothing to offer you."
Trump hit back, calling Obama's return to the campaign trail "a carnival act" and derided him as a president "who doesn't know what the hell he's doing".
But Obama, looking relaxed and confident on stage, insisted Clinton was the way forward.
"The bottom line is, I know Hillary can do the job," he said.
"I couldn't be prouder of the things we've done together, but I'm ready to pass the baton," Obama said. "And I know that Hillary Clinton is going to take it."
(FRANCE 24 with AFP)