Aoun quietly tries to woo the Muslim community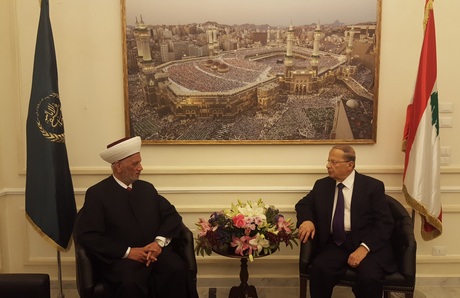 Presidential candidate and Free Patriotic Movement founder MP Michel Aoun tried to use the Eid el Fitr occasion to woo the Muslim community
He visited Wednesday Speaker Nabih Berri and Grand Mufti Sheikh Abdul Latif Daryan in Beirut to offer them Eid al-Fitr greetings.
After talks with Daryan Aoun announced that "communication with Future Movement is still ongoing," stressing the importance of "reaching an understanding among the various Lebanese political forces over all issues."
Aoun also telephoned Saudi Ambassador to Lebanon Ali Awadh Asiri to offer Eid greetings and extend condolences over the suicide bombings that hit Saudi Arabia, NNA reported
The Lebanese parliament failed against last month and for the 41st time in a row to elect a president to replace Michel Suleiman whose term ended on May 25 , 2014.
As in the past sessions the parliament was unable to reach a quorum because the Iranian-backed Hezbollah militant group and its ally MP Michel Aoun's Change and Reform bloc MPs boycotted the session, because they could not reportedly guarantee Aoun's election as a president
Speaker Berri a key ally of Hezbollah postponed the election to July 13th.
Future Movement leader and former PM Saad Hariri, who is close to Saudi Arabia, launched an initiative in late 2015 to nominate Marada Movement chief MP Suleiman Franjieh for the presidency but his proposal was met with reservations from the country's main Christian parties as well as Hezbollah.