Hezbollah, Iran responsible for Lebanon's presidential vacuum, says Saudi FM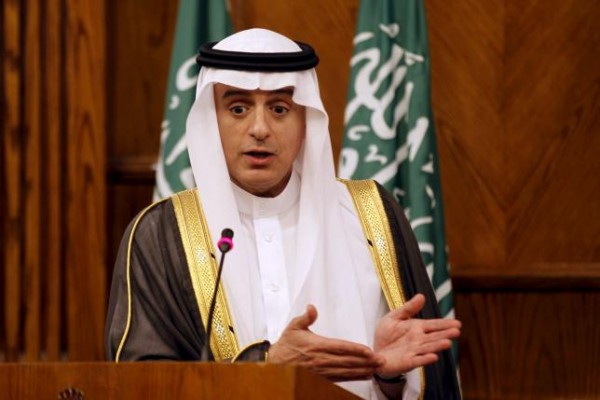 Saudi Foreign Minister Adel al-Jubeir Tuesday blamed Hezbollah and its backer Iran for the ongoing presidential vacuum in Lebanon while on a visit to Paris as his French counterpart said his country would resume efforts to end the country's political deadlock.
"Hezbollah, with Iranian support, is to blame for the political vacuum in Lebanon seeing as it is obstructing any effort aimed at resolving the presidential void crisis," said Jubeir at a joint press conference he held with his French counterpart Jean-Marc Ayrault.
"Hezbollah is working for Iranian interests and not for the sake of Lebanon," Jubeir said
"They are delaying the election of a president in Lebanon and Hezbollah bears the responsibility of the presidential vacuum."
"The entire world is aware of Iran's support for terrorism and its attempts to undermine stability in the region," the Saudi minister added.
"Tehran must respect the principle of good neighborliness and must give up the principle of exporting revolution," he said.
The Lebanese parliament failed again last week and for the 41st time in a row to elect a president to replace Michel Suleiman whose term ended on May 25 , 2014.
As in the past sessions the parliament was unable to reach a quorum because the Iranian-backed Hezbollah militant group and its ally MP Michel Aoun's Change and Reform bloc MPs boycotted the session, because they could not reportedly guarantee Aoun's election as a president
Hezbollah backs Free Patriotic Movement founder MP Michel Aoun for the presidency as does Lebanese Forces head Samir Geagea. This is despite the fact that Geagea's March 14 ally Future Movement head and former Prime Minister Saad Hariri backs March 8 Marada MP and leader Suleiman Frangieh.
For his part, Ayrault announced that he would be visiting Lebanon on July 11 and 12. "[We] will try to reach a solution to elect a president," he said.
Geagea doubts Hezbollah wants Aoun for president
Geagea , who was the first to announce his presidential candidacy said that Iran and Hezbollah might not want MP Michel Aoun to be elected as a head of state, An Nahar daily reported on Wednesday.
"Aoun might be the last person that Iran and Hezbollah want as a president," Geagea told the daily.
His comments came in light of the obstructions hampering the election of a president, despite his own withdrawal from the presidential race in favor of Aoun.
In January, Geagea announced his support for his rival Change and Reform bloc chief Aoun as president.