New U.S. Ambassador: Lebanon stability will contribute to regional stability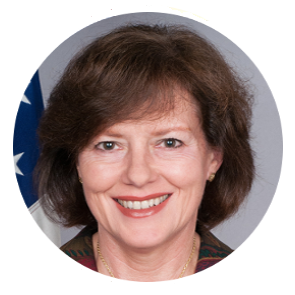 Elizabeth Holzhall Richard a Career Member of the Senior Foreign Service, Class of Minister-Counselor,  is scheduled to be sworn in today, Tuesday as the new U.S. ambassador to Lebanon.
Richard, 56, said she was thrilled when she was told she would be named to the post in Lebanon. She called it both a huge honor and a huge responsibility.
"I've been doing this for 30 years now, so I'm absolutely thrilled to have the opportunity to serve with the folks that I'll be working with and try to be able to make a little bit of a positive contribution," Richard said in remarks to the Northwest Indiana Times newspaper.
Richard served most recently as deputy assistant secretary and the coordinator for foreign assistance to the Near East in the State Department's Bureau of Near Eastern Affairs since 2013 . In that role, Richard oversaw a foreign assistance budget of more than $7 billion.
She has   experience  in  dealing with critical and complex Middle East policy and assistance issues, not only as DAS in Washington, but as Deputy Chief of Mission in Yemen during an exceptionally challenging period.
For three decades, Richard has served as a foreign service officer in some of the U.S. government's most challenging posts, including Afghanistan, Pakistan and Yemen. A graduate of the National War College in Washington, D.C., and the NATO Defense College in Rome, she has undergraduate and law degrees from Southern Methodist University.
Her father, Vern Holzhall, retired as president of Mercantile National Bank of Indiana. Her mother, Mary, was a travel agent. Both still live in the area and Richard visits Northwest Indiana often. Her parents, siblings and other relatives, including her late husband's family, were expected to attend Tuesday's swearing-in ceremonies.
In recalling how she became involved in foreign service, Richard said she was always interested in international travel and was lucky to have parents who took the family overseas when she was young. She also had an uncle who was a Jesuit priest who went to Italy when she was young and aunts and uncles who were teachers. She said she was constantly exposed to the fact that "there's a wider world out there."
When attending law school, Richard said she took some international law classes and one of her teachers suggested she take the foreign service officer test. Richard said she wasn't really exposed to the fact that there was this line of work out there prior to that time and now urges young people to consider such a career.
Richard said she is looking forward to the challenge of making something positive happen when it comes to her new post in Lebanon.
She points out the Middle East countries of Syria, Iraq, Libya and Yemen are currently in active conflict.
"We don't need another one to trip into crisis and hot conflict," she said. "So I'm really looking forward to the opportunity to continue to try to make sure that doesn't happen."
Stability in Lebanon, she said, is going to contribute to stability in the region.
Stability in the Middle East "is really important to our national security and one more unstable partner in that region, one more country that trips into active conflict, is not good for anyone in the world," she added.
In addition, the Northwest Indiana Times quoted the Richard as saying that the Lebanese people are incredibly productive, educated and sophisticated.
They are extremely good business people, she said, and Lebanon is one of the real banking centers of the Middle East.
"You have a lot of Lebanese Americans who are incredibly productive members of society so it is important to us to keep Lebanon stable and keep them in a position to continue to produce people like that," she said.