Berri warns National Dialogue parties against return to 1960 electoral law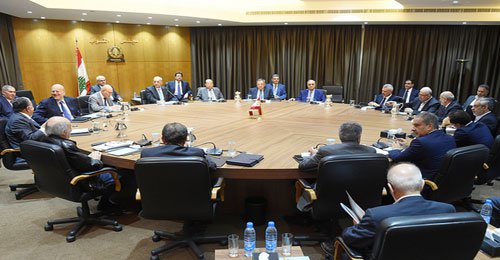 Speaker Nabih Berri warned the Lebanese parties during the national dialogue session on Tuesday against even "thinking" of holding the next parliamentary elections under the 1960 electoral law, cautioning that citizens would "take to the streets" to reject such a move, as The Phalange  Party chief MP Sami Gemayel called for a non-sectarian electoral law based on one small district and  the creation of a Senate .
"Let no one think of extending the parliament's term or the 1960 electoral law, because returning to any of them might lead to a revolution," Berri urged without explaining why this all happen.
After the meeting, Gemayel said: "I suggested   non-sectarian small  electoral districts in order to get rid of political sectarianism and put an end to the stalemate on the electoral law."
He also called for establishing a Senate that would represent all the country's sects.
Hezbollah's MP Ali Fayyad meanwhile said a lot of ideas were raised around the dialogue table, "including the call for abolishing political sectarianism," and noted that "all pending issues will be addressed in the August 2, 3 and 4 sessions."
"Should we fail to agree on a consensual electoral law, we must move to discussing a package deal," he suggested.
Former Minister Ghazi al-Aridi, who represented MP Walid Jumblat, said: "We have not agreed on a new president, nor on a new electoral system."
"The proposal of holding a 'Lebanese Doha conference' is one of the ideas that were raised by Speaker Berri but it has not materialized until the moment," Aridi added.
As for the issue of oil and gas exploration, Foreign Minister Gebran Bassil said "the oil decrees have been delayed but better late than never."
The dialogue conference will resume for three consecutive days scheduled on August 2, 3 and 4 in a bid to reach an agreement over a new electoral law.
Al-Akhbar daily had reported that "Tuesday's session is one of the most important meetings in the current rounds of talks, given the issues that will be discussed."
Several Lebanese leaders were absent today including MPs Walid Jumblatt and  Michel Aoun
In May, Berri launched an initiative aimed at ending the political impasse. He called for shortening the term of parliament and that the elections be held based on the 1960 law should political forces fail to agree on a new electoral system.
He also called for staging the presidential elections after the parliamentary ones and forming a national unity government.
The parliament extended its own term twice, the first time in 2013 and a second time in 2014. They were prompted by the political forces' failure to agree on a new electoral law.
The move sparked outrage in Lebanon.