Senior Hamas official allegedly defects to Israel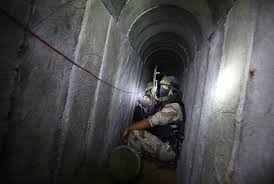 A senior Hamas official with extensive knowledge of the militant organization's network of tunnels has surrendered to Israel,Israeli newspaper Haaretz reported Tuesday, citing reports from Fatah-affiliated websites.
Bassam Mahmoud Baraka, the son of a Hamas-affiliated religious judge, is said to have turned himself in to Israeli authorities at the border fence between Gaza and Israel while carrying a laptop. He reportedly told his family that he was leaving to run errands and never returned. The Red Cross has informed his family that he was in Israeli custody, the reports added.
The Fatah-affiliated websites mocked Hamas for allowing its operatives — especially those with knowledge of the terrorist group's network of tunnels — to fall into Israeli hands. Baraka is the fourth Hamas official or operative reported to be in Israeli custody since April. Israel's internal security service announced in May that it had captured Mahmoud Atawnah, a senior Hamas tunnel expert who had crossed into Israel to carry out a terrorist attack, as well as an unnamed teen who also had knowledge of the tunnels, the previous month. The Shin Bet revealed earlier this month that another teen with knowledge of the tunnels had been captured. The second teen described a network of tunnels that allows Hamas terrorists to travel throughout the Gaza Strip underground.
Israel has announced the discovery of two Hamas tunnels that breached Israeli territory in the past two months.
During Operation Protective Edge in 2014, which was launched in response to Hamas' rocket fire, the IDF discovered and destroyed at least 34 tunnels in Gaza. Hamas killed several Israeli soldiers through its use of cross-border tunnels, including five soldiers in Israeli territory near Kibbutz Nahal Oz.
Palestinians in Gaza have recently expressed fears that Hamas tunnels built in or near civilian areas are putting non-combatants at risk of being hurt by Israeli strikes. "I am sure, one million percent, that those with tunnels under their houses cannot sleep, or taste the joy of life," one anonymous 42-year-old woman in Gaza told The New York Times.
According to the United Nations, only 23% of Palestinian homes that were destroyed during the war have been reconstructed.