Trump, Clinton face off over Orlando massacre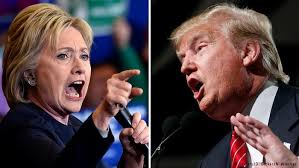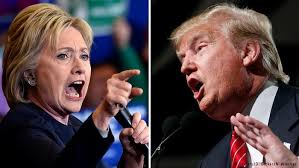 The worst terror attack on U.S. Soil since 9/11 offered a glimpse into just how contentious — and unseemly — the November race between Donald Trump and Hillary Clinton is likely to be.
The presumptive Democratic and Republican presidential nominees wasted little time in quiet mourning before turning the attack on an Orlando gay nightclub that left 50 dead into a political war.
They started exchanging political barbs shortly after a gunman apparently inspired by ISIS opened fire — despite the risk of being seen as exploiting one of the most traumatic days in the nation's recent history.
Trump, the presumptive Republican nominee, seized on the massacre to demand the resignation of President Barack Obama and to brand his preferred successor weak on terror.
Clinton, seeking to stop Trump getting back on track after a rough couple of weeks for his campaign, at first reacted with more caution than the tough-talking real estate billionaire.
But her campaign later mobilized its rapid response operation to frame Trump's reply to the attack as fresh evidence of the theme it is trying to place at the center of November's election: that Trump lacks the qualifications and temperament to be president and that he is placing his own interests above those of the nation.
"Last night, our nation was attacked by a radical Islamic terrorist," Trump said in a statement after the massacre cemented fears that the most potent threat to Americans now comes not from the spectacular terrorist attacks that felled the Twin Towers on September 11 but from radicalized home-grown terrorists. Though authorities have yet to identify a definitive cause for the Orlando attack, perpetrator Omar Mateen, a U.S.-born man of Afghan descent, had pledged allegiance to ISIS, according to public safety officials.
Trump in his statement accused Middle Eastern migrants and their children of carrying out terrorism and promised to make America "safe again and great again."
Trump gives hardball response
His hardball response to the tragedy underlined his willingness to deal explosive political cards on issues like religion, ethnicity and terrorism in the belief that when Americans don't feel safe, his tough talk and slaying of political correctness helps his campaign. He took a similar tactic after the attack in San Bernardino in December — which seemed to resonate with the GOP primary audience — and it comes after a few rough weeks of self-inflicted wounds.
"If we do not get tough and smart real fast, we are not going to have a country anymore. Because our leaders are weak, I said this was going to happen — and it is only going to get worse," Trump said. "I am trying to save lives and prevent the next terrorist attack. We can't afford to be politically correct anymore."
Seeking to steal the momentum from the Clinton campaign, the Republican presumptive nominee ditched plans to make a speech castigating the former first lady and husband Bill Clinton on Monday.
Instead, Trump will deliver a major address in New Hampshire on the terrorist attack, immigration and national security, his spokeswoman Hope Hicks said.
The Clinton campaign quickly moved to head off the Trump offensive, making clear that the presumptive Democratic nominee would soon lay out her own ideas for combating the evolving threat from home-grown terrorism and dismissed Trump's bid to use the attack to bolster his political prospects.
"This act of terror is the largest mass shooting in American history and a tragedy that requires a serious response," said Clinton communications director Jennifer Palmieri in a statement.
"In contrast, Donald Trump put out political attacks, weak platitudes and self-congratulations," Palmieri said. "Trump has offered no real plans to keep our nation safe and no outreach to the Americans targeted, just insults and attacks. In times of crisis more than ever, Americans are looking for leadership and deserve better."
Clinton seizes on politics of guns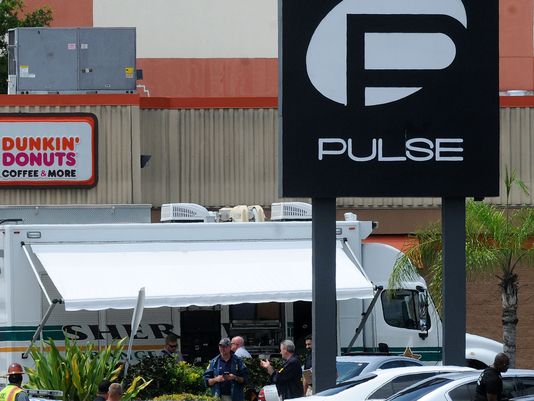 Clinton also paid tribute to the LGBT community — an important part of her political and fundraising base — and called for increased gun control in another political use of the tragedy.
At the same time, the Clinton camp absorbed a political blow in cancelling a planned first joint campaign appearance with Obama on Wednesday in Wisconsin.
The political maneuvering comes after several weeks of bad news for Trump, and his swift mobilization in the aftermath of the horrific attack recalled his nimble topic-shifting on fast-developing dramas during his successful Republican primary campaign. Until now he has proved less adept at quick subject changes under the increased scrutiny of the general election fight.
The real estate magnate has been under fire from Clinton for several weeks over his personality, temperament, conduct towards women, perceived lack of foreign policy knowledge and allegations of impropriety in his business history.
He has simultaneously faced condemnation from senior members of his own party over missteps, including his comments that a U.S.-born judge with Mexican ancestry is biased against him in a civil suit focusing on Trump University.
But the resurgent fear of terrorism, which will likely dominate the news agenda for days, provides Trump politically safer ground.
Tough talk on terror is a cause behind which many Republicans, even those skeptical of Trump, can unite. And the shooting offers at least the prospect of reversing Obama's rising approval ratings, which are currently above 50% and therefore helpful to Clinton.
One of Trump's first tweets on the killings characteristically administered himself a pat on the back claiming prescience about the threat from radical Islamic groups.
"Appreciate the congrats for being right on radical Islamic terrorism, I don't want congrats, I want toughness & vigilance. We must be smart!" Trump tweeted.
But many took to Twitter to blast his self-regard, underscoring potential pitfalls in his approach.
"We often talk about an October surprise in politics, something — a big event — comes to change the political atmosphere," said Peter Bergen, a CNN terrorism analyst who has written a study of radicalized home-grown terrorists.
"Both campaigns need to think how to react to this," Bergen said.
CNN