Lebanon Central Bank sources: The Blom bank blast won't help Hezbollah
The explosion that rocked central  Beirut last night that targeted  the headquarters of  Blom Bank,  one to the largest  Lebanese banks  was preceded  two hours earlier by a threat from Tehran in which Pars news Agency quoted Hezbollah officials threatening another May 7,2008  type attack.
It was not reportedly  difficult for the banking sources to point their fingers at Hezbollah but the sources insist that these type of acts will not help Hezbollah in any shape or form  because there is no way around compliance with the US sanctions .
On May 5, 2008, the government decided to remove airport security chief Brig. Gen. Wafiq Shouceir( over the airport  surveillance cameras and his alleged links to Hezbollah ) and labeled illegal and unconstitutional a private telecommunications network set up by Hezbollah on Lebanese territory. The decision sparked a coup by Hezbollah on May 7 ,2008 which led to its occupation of west Beirut and its failed attempt to occupy the Druze stronghold of Mt Lebanon.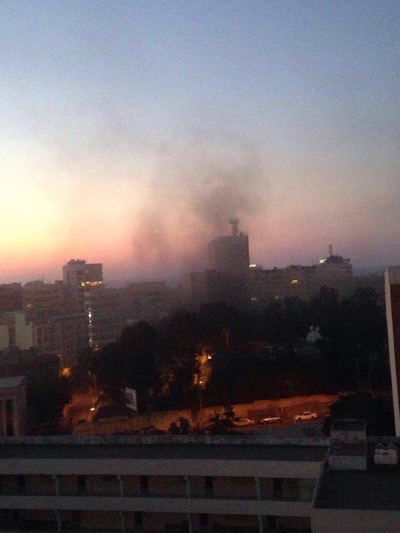 The airport cameras were reportedly behind the information that led to the murder of some of the anti-Syrian Lebanese leaders, immediately after their return from overseas.
The Lebanese banking sector has been at the center of an escalating crisis since the United States passed a law targeting the finances of Hezbollah. The powerful Shi'ite Muslim group has launched verbal attacks on the central bank over the implementation of the act in Lebanon.
Blom Bank is one of the banks that has closed accounts belonging to people suspected of links to Hezbollah.
According to observers compliance with the US sanctions is an existential issue for Lebanon and the banking sector