Iraqi civilians fleeing Fallujah drown, as life in the city has become " worse than hell "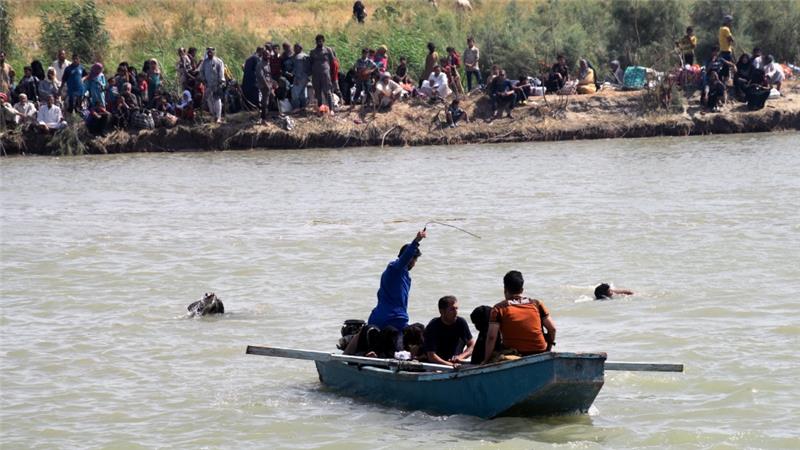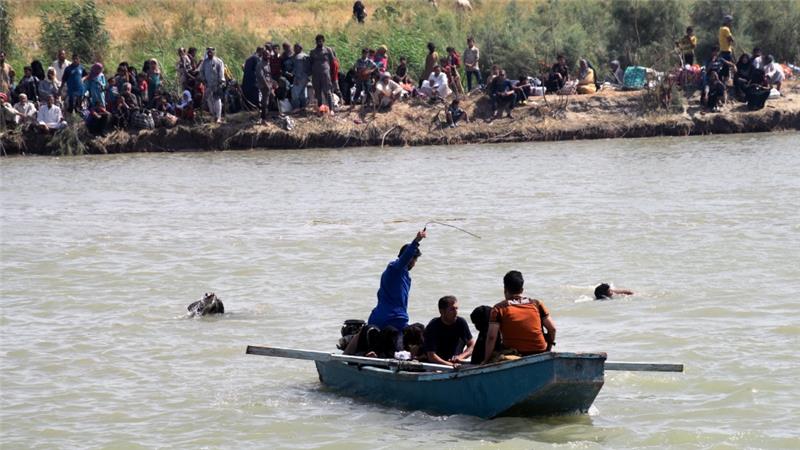 A boat carrying fleeing civilians across a river from the Islamic State stronghold of Falluja sank on Saturday, killing at least four people, as pro-Baghdad forces said they had the city almost completely encircled.
Two children, their mother and a man drowned crossing the 300-metre (1,000-feet) wide Euphrates, one the few escape routes left for civilians hoping to leave the besieged town as the war against the militants intensifies.
Nine other people believed to have been on the boat remained missing, police said.
"I've seen with my own eyes my family disappear under the water," said Abu Tabarak, who watched from the Islamic State-held side of the river as the boat sank with his wife, son and daughter aboard.
"There was no place for me on the departing boat, so I had waited with my second daughter for the next one," he said by telephone from hospital in Ameriyat Falluja a town downstream under government control where the drowned bodies were taken.
"Life has become worse than hell in Falluja; hunger, death and shelling," he said, his voice breaking with grief.
"And after all that suffering, I lost my family before my eyes."
Abu Tabarak's family had spent four days picking their way across the city, moving slowly to avoid shelling, sniper fire and explosive devices.
His story highlights the plight of an estimated 50,000 civilians in Falluja, 50 km (32 miles) from Baghdad, the first Iraqi city taken by Islamic State, in January 2014, as it seized swathes of territory there and in Syria.
Already suffering shortages of water, food and medicines, the city is now under bombardment from Iraqi forces, allied Shi'ite militias and aircraft from the U.S.-led coalition, as they pursue the battle to retake Falluja that began on May 23.
"AT THE GATES"
A leader of the Iran-backed Shi'ite coalition taking part in the offensive said Falluja was now all but encircled, the only side that had yet to be secured by pro-Baghdad forces being part of the western bank of the Euphrates.
"We are now at the gates of Falluja," Abu Mahdi al-Muhandis, deputy leader of the Popular Mobilization Force, told a televised news conference.
Civilians have been using anything that floats to help them cross the river, provincial council head Shakir al-Essawi said.
"They are using empty refrigerators, wooden cupboards and kerosene barrels as makeshift boats," Essawi told Reuters. He said more than 1,000 families had managed to get across.
"It's totally unsafe and this is why innocent people are drowning."
Some die before even reaching the river, killed by sniper fire from Islamic State lines or by explosive devices along the roads, said Jassim Alwan, a police captain in Ameriyat Falluja.
Prime Minister Haider al-Abadi said on June 1 the offensive on Falluja had been slowed down in order to protect civilians.
Sunni politicians have voiced concern that the presence of Shi'ite militias alongside the army in the battle could lead to an increase in sectarian violence.
Falluja is a historic bastion of the insurgency against the U.S. occupation of Iraq and the Shi'ite-led authorities who took over after the overthrow of Saddam Hussein, a Sunni, in 2003.
The United Nations refugee agency said a total of about 12,000 people had managed to flee since May 23, mostly from the outskirts of the city.
Reuters