Lebanon failed again and for the 40th time to elect a president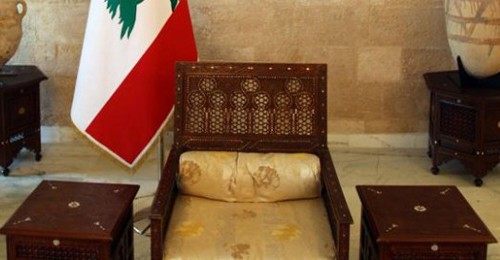 The Lebanese parliament failed again today and for the 40th time in a row to elect a president to replace Michel Suleiman whose term ended on May 25 , 2014.
As in the past sessions the parliament was unable to reach a quorum because the Iranian-backed Hezbollah militant group and its ally MP Michel Aoun's Change and Reform bloc MPs boycotted the session, because they could not reportedly guarantee Aoun's election as a president
Speaker Nabih Berri a key ally of Hezbollah postponed the election to June 23.
Dozens of MPs, mainly from the March 14 coalition, arrived at the Parliament in Beirut's Nejmeh Square to attend the session.Phalange Party leader Sami Gemayel was among the first to arrive.
Marada Movement leader Sleiman Frangieh, who was tipped by his rival Future Movement leader Saad Hariri to run for office, also abstained from attending the session to conform with the stance of his March 8 allies.
The presidential race is pitting Frangieh against Aoun, who is backed by Hezbollah, some March 8 allies and Lebanese Forces leader Samir Geagea. Berri and MP Walid Jumblatt also back Frangieh's presidential bid, along with some March 14 allies and independent lawmakers.
A twitter war erupted today between Geagea and Hariri over the presidential issue .
Hariri replied to Geagea statements , stating that the latter and Hezbollah have obstructed his initiative to end the presidential vacuum.
"Just a reminder. The first person to nominate you for the presidential post was I," said Hariri via Twitter addressing Geagea who made the statements in an interview on MTV on Wednesday.
"The country is more important than you and I. The parties that obstructed my initiative to end the presidential impasse were you and Hezbollah," added the ex-PM referring to his nomination of Franjieh for the top state post.
"We ( Future Movement) are not against the alliance (between the LF and the Free Patriotic Movement), but we have the right to stand by the people who have backed us since 2005 including Dori Chamoun, Sami Gemayel, Butros Harb, Elias el-Murr, Hadi Hobesih , Farid Makari and the list goes on," remarked Hariri.
Geagea announced in his interview that the LF and the FPM faced a "major war" from all parties in the latest municipal polls, noting that both Future Movement and Hezbollah are against the LF-FPM rapprochement.