Salameh: Lebanon's interests dictate compliance with US laws over Hezbollah finances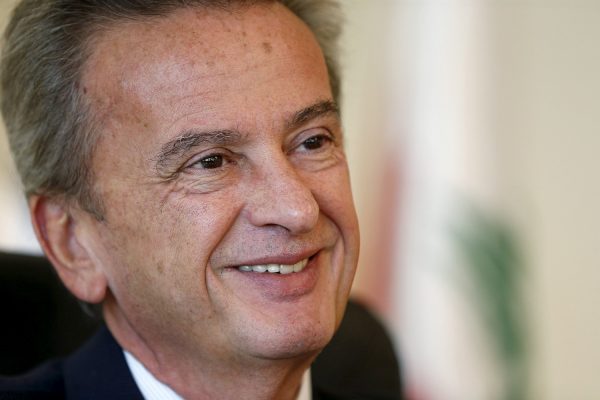 Central Bank Governor  Riad Salameh reiterated  on Monday that Lebanon is obliged to abide by the recent U.S. law targeting Hezbollah's finances.
"The principle is very clear. We should respect the laws of the countries that we are dealing with and among them is the recent law in the United States. Lebanon is committed [to this law] because its interests dictate this. The Central Bank has officially asked the commercial banks to comply with this law and the Special Investigation Commission has issued a circular on this subject. It's true that the situation is delicate but I can assure you that the basis we are working on will guarantee better results. We are looking at the future positively," Salameh told a luncheon to honor him and to celebrate the 30th anniversary of the Lebanese Businessmen Association.
Ministers and members of parliament belonging to Lebanon's Hezbollah could be sanctioned under a new U.S. law targeting the group's finances, a U.S. Treasury official said last  Friday.
The U.S.   Hezbollah International Financing Prevention Act (HIFPA) passed in December threatens sanctions against anyone who finances Hezbollah in a significant way.
It has ignited an unprecedented dispute between Lebanon's most powerful group – the heavily armed Hezbollah – and a central bank widely seen as a pillar of the otherwise weak and dysfunctional Lebanese state.
When asked in an interview with television channel LBC  if the law could be applied to Hezbollah ministers and MPs in Lebanon, the U.S. Teasury's Assistant Secretary for Terrorist Financing Daniel Glaser said: "We don't make a distinction among Hezbollah members."
But Glaser added :
"We understand the difference between Hezbollah and the Shiite community and it's very important to make sure that everybody watching the show [knows] that we are not targeting the Shiites and we are not targeting any community in Lebanon. We are not targeting Lebanon at all. This law is applied worldwide," he said.
Classified as a terrorist group by the United States, Hezbollah wields enormous political influence in Lebanon and its powerful military wing is playing a major role in the Syrian conflict.
Hezbollah blasted the U.S., the Central Bank and commercial banks when Salameh issued Circular 137 that asked banks to notify it if it freezes or suspend any bank account linked to Hezbollah.
But the governor clarified some clauses in the original circular to appease the tense situation.
The recent SIC circular explicitly asked banks to notify the agency before freezing or rejecting accounts they suspect are linked to Hezbollah, and to explain their reasoning. If banks do not receive a response from the SIC within 30 days, they can take action on the account. SIC warned that any bank which fails to comply with the circular will be prosecuted by the financial authorities.