UN demands Israel pay restitution for 1996 shelling of Lebanese Qana village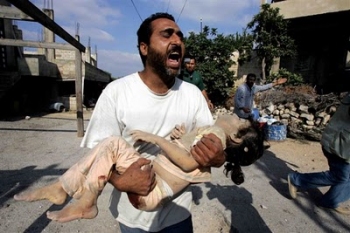 A United Nations body has demanded that Israel pay restitution for the shelling of a UN compound in the southern Lebanese village of Qana in 1996.
The 1996 shelling of Qana also known as Qana massacre took place on April 18, 1996 near Qana, a village in Southern Lebanon, when the Israel Defense Forces fired artillery shells at a United Nations compound. Of 800 Lebanese civilians who had taken refuge in the compound, 106 were killed and around 116 injured. Four Fijian United Nations Interim Force in Lebanon soldiers were also seriously injured.
The attack occurred amid heavy fighting between the Israel Defense Forces and Hezbollah during Operation Grapes of Wrath. A United Nations investigation later stated it was unlikely that the Israeli shelling was a technical or procedural error, which was based on video evidence showing that an Israeli drone was spying on the compound before the shelling. Israel at first denied spying on the compound but changed its version of the story after the video was made public. Israel categorically rejected the findings of the UN report concerning the incident.
The Fifth Committee of the UN General Assembly, which is responsible for administration and monetary matters, has been urging Israel to pay compensation of $1.17 million. Israeli Ambassador to the UN Danny Danon said Israel is refusing the demand.
"Hezbollah terrorists were those who had attacked Israel and its civilians, while using the citizens of Lebanon as a human shield, and Israel is the one that ends up with a restitution demand," said Danon.
"This is an absurd situation in which Israel is urged to pay for the war crimes of a terror organization," he added.
Agencies