Municipal polls: Hezbollah, Amal facing competition in their south Lebanon stronghold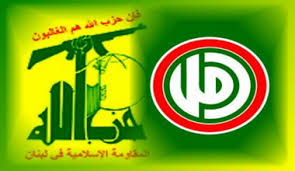 Several municipal councils and mayors running unopposed in Sunday's South Lebanon and Nabatiyyah governorate contests were re-elected by acclamation, as various rallies gained momentum, political groups formed competing lists and, in Jezzine, a three-way confrontation to fill a vacant parliamentary seat added to the democratisation hoopla.
Last week, the National News Agency reported that the nine-member municipal council in the town of Tanburit, east of Sidon, won after an opposing candidate withdrew from the race.
In Lubieh, another nine-member municipal council won by acclamation too, while the Development and Loyalty list (15 seats), backed by both the Amal Movement and Hezbollah, won in the Deir al-Zahrani town of Nabatiyyah after an opposing list withdrew. A list backed by Amal and Hezbollah also won in Majdalzun, where the 15-member municipal council swept a clean slate, as scores of mayors, including Ali Shakrun in Deir Al Zahrani, Afif Hasan Sha'alan in Zita, and Abduh Ebrahim Khalil won outright even before a single ballot was cast.
Efforts to pressure certain candidates to withdraw from their races failed in certain cases, including in Sharqiyyah [Nabatiyyah governorate], where Jawdat Shuayb refused to withdraw his candidacy and those of his allies for the 12-member municipal council, which prevented a joint list supported by Hezbollah and Amal from winning by acclamation.
In the event, the two Shiite groups were expected to see a few electoral battles because several candidates refused such temporary alliances.
Speaker Nabih Berri, who is also the head of the Amal Party, called on his supporters to vote for the alliance because "these elections are aimed at development and showing loyalty" was beneficial, he insisted. He further urged voters to cast ballots for his lists as he hoped for a heavy turnout.
Earlier in the week, the Lebanese Forces (LF) announced that it supported the municipal list dubbed "We are for Jezzine" that includes an alliance between the LF, Free Patriotic Movement (FPM), the Phalange Party and leading families in the major southern city where a heated by-election to fill the seat left vacant by the death of deputy Michel Helou (FPM), who passed away in 2014, created a dilemma.
All three candidates vying for the post — Amal Abu Zayd, backed by the FPM, LF, and Phalange; Ebrahim Azar, the son of former deputy Samir Azar; and Patrick Rizkallah, a former FPM activist — enjoyed some support from leading Christian parties though Michel Aoun on Friday urged "Jezzine to assert the political course it adopted in 2009" and, presumably, back Abu Zayd.
He added: "We hope that after 48 hours, we will have the only legitimate deputy in parliament," in reference to the legislative institution's self-extension of its term twice, first in 2013 and a second time in 2014 when elites failed to uphold the law. It was strange that Aoun would make such a declaration since he recognised that his own mandate was illegitimate.
Elsewhere, Hezbollah and Amal announced joint lists, aware that independent voters rejected the two Shiite parties' strangulation of the political process.
In Bint Jbeil, for example, the Amal deputy Ali Bazzi urged local residents to support the "Development and Loyalty" list, while his Hezbollah counterpart, Hasan Fadlallah, declared that "competing in the south remains local among families and friends", as he accused unnamed sides of seeking to incite tension by depicting the competition as being "political". Although most of the south was assumed to be the heartland of Amal and, especially Hezbollah, clear challenges emerged after 2011 when Hezbollah deployed scores of its militiamen in Syria.
In Sidon, deputies Bahia Hariri and Fuad Siniora called on their supporters to turn out and vote for the list of the city's incumbent mayor Mohammad Saudi, although there were three competing lists with 56 candidates vying for Sidon's 21-member municipal council.
Saudi's list, known as "Developing Sidon, Sidon Forward", faced a list backed by Usamah Sa'ad (Nassirite), and another supported by Ali Shaikh Ammar, a former Jama'a Al Islamiyyah official, although he included only nine names — all Sunni candidates — on "The List of Sidon's Free People". "We are fighting this battle on the basis of municipal development … but also politics," Ammar said during a recent news conference and "reject the oppression that Muslims are being subjected to and demand the release of our innocent". in reference to Shaikh Ahmad Al Assir.
Interestingly, several women candidates were in the running in Sidon, with Rulah Al Sabih-Ayun running in Wastani against two male mayors. Al Sabih-Ayun, a homemaker, proved to be a strong campaigner, while Dalida Al Sahyuni, who is running in Qanayyah, where the majority of voters are Christians, counted on Muslim voters to propel her to victory.
The elections first kicked off in the capital Beirut and the Beka'a Valley on May 8 and were followed by elections in Mount Lebanon on May 15. The last round will be held on May 29 in two northern districts.
GN