Lebanese officials reject call for early parliamentary polls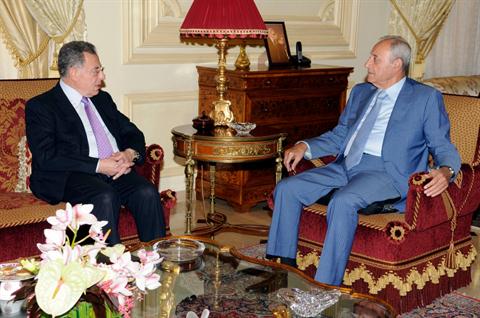 Lebanese Parliament Speaker Nabih Berri on Wednesday placed a fresh initiative on the table of the 18th national dialogue session, proposing to hold early parliamentary polls before the election of a president.
Berri argued that the Constitution stipulated an extension of parliament's term for security reasons, which could now be rescinded after the successful holding of municipal polls.
The idea was rejected by the Future Movement, along with leading Christian officials, who insisted that a head-of-state be chosen before any tinkering with the Constitution.
"In the absence of a president, Parliament, as stipulated by the Constitution, becomes an electoral body, whose sole task is the election of a president," affirmed Atef Majdalani, a March 14 representative. Majdalani told The Daily Star that the movement was committed to going to Parliament to elect a president first, after which parliamentary polls could be held.
Majdalani and former prime minister Fouad Siniora represented the Future Movement at Wednesday's latest talkfest, with the speaker anxious to piggyback on the relatively peaceful municipal election conditions, to push for his initiative(s).
Regrettably, few adhered to the experimentation, because most feared that they could not trust their fellow parliamentarians to actually respect pledges and elect a president after parliamentary elections.
Equally problematic was the absence of a new electoral law that deputies allegedly were devising in earnest, which meant that the controversial 1960 voting system — that was based on electoral districts, not proportional representation—would be applied.
According to Hezbollah deputy Ali Fayyad, the Berri initiative included three choices: (1) accept a new electoral law on whose basis Parliament's extended term would be shortened, legislative elections held, and pledges made to attend a session when a president would be chosen; (2) hold parliamentary elections according to the current 1960 voting law and follow the same mechanism to select a president; and (3) go to "a new Doha" conference where all outstanding issues could be negotiated in unison.
The last option would be held in Beirut since no GCC state volunteered, and was little more than a constitutional convention, albeit under the more innocuous "New Doha" label. The vast majority of Lebanese citizens and leaders opposed a new constitutional convention.
It was unclear whether decision-makers would reach a compromise on one of these proposals before the 19th scheduled dialogue session, now set for June 21, especially since established rivalries over the very identity of the country prevented compromises.
In May 2008, a political deal was reached in Doha, Qatar, which led to the election of then-Army commander General Michel Sulaiman as president, along with the formation of a national unity Cabinet that ended an 18-month political deadlock, when Speaker Berri essentially shut parliament down.
At the time, Sa'ad Hariri's unity government, which was agreed upon in early 2009, collapsed on January 12, 2011, after the energy minister Jibran Bassil announced that opposition ministers resigned after Hariri allowed the Special Tribunal for Lebanon to indict five Hezbollah operatives over the assassination for former Prime Minister Rafiq Hariri.
What that experience highlighted was the combination of mistrust and contradictory objectives for the country, which have persisted ever since, and that probably meant that settlements on alternatives were nearly impossible.
On May 24, 2016, Lebanon will complete its second year without a president, as rival March 8 and March 14 parties continue to jockey over who should be the next office holder, even if the two leading contenders — Michel Aoun and Sulaiman Franjieh — were both March 8 candidates.
GN