Municipal election in Kfar Sir, south Lebanon postponed after candidates withdrew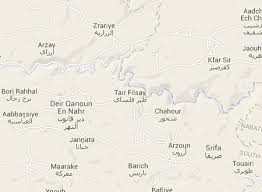 The municipal elections in the town of Kfar Seer in the governorate of Nabatieh, have been postponedInterior Minister Nouhad al-Mashnouq announced on Sunday .
"We have postponed the elections in Kfar Seer because the majority of the candidates have withdrawn their nominations," Mashnouq said.
Prominent figures in Kfar Seer called on people to boycott the elections over what they said was pressure exerted on voters.
The municipal council of Kfar Seer is formed of 15 members.
Assessing Sunday's election process, Mashnouq described it as excellent, he said "The conditions are excellent so far in all the polling stations and in all regions," but did not rule out some attempts to bribe voters.
"The bribery attempts (to win votes) in the south are very limited. There is only one incident that has been recorded," he remarked.
Municipal elections in the South and Nabatieh kicked off on Sunday.
The first round started in Beirut and Baalbek-al-Hermel on May 8. The second round was held in Mount Lebanon on May 15.
The last round will be held in the North and Akkar on May 29