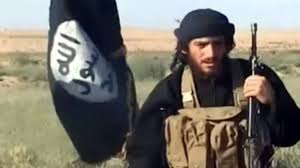 One of the Islamic State's most hunted leaders delivered a rare speech Saturday that suggested the militants are feeling the pinch of recent territorial losses and the killing of key officials in U.S. airstrikes.
Abu Mohammed al-Adnani, who is the Islamic State's chief spokesman and a close aide to leader Abu Bakr al-Baghdadi, threatened Jews, urged supporters to carry out more terror attacks against Western targets and used typically defiant language to predict victory for the group's self-proclaimed caliphate.
But the defensive tone of the speech, delivered in an audio address posted on one of the Islamic State's websites, also suggested that the militants are contemplating the prospect that their senior leadership will be wiped out and their last important cities lost.
"Do you think you have won because you have killed one or more leaders? It is a false victory," he said.
"Even if we lose Raqqa or Sirte, we won't be defeated," he added, referring, respectively, to the Islamic State's de facto capital in Syria and the city in Libya it more recently conquered.
Just as significant was what the speech did not contain.
There was no claim of responsibility for the downing of the EgyptAir flightthat crashed Thursday into the Mediterranean. Investigators have yet to determine what caused the plane to crash.
The speech was not delivered by Baghdadi, despite feverish speculation by Islamic State supporters throughout the day on social media that the leader would be addressing them directly.
However, Adnani, like Baghdadi, has several times been rumored to be dead, and the address demonstrated that he is alive. Baghdadi delivered his most recent speech in December, and Adnani had not spoken publicly since October.
This address came after months of setbacks in which the Islamic State has been pushed out of a string of key towns and cities, including Palmyra, Ramadi, Sinjar and, most recently last week, the Iraqi town of Rutbah near the Syrian border. U.S. officials also claim they are successfully targeting a growing number of the group's top leaders.
Adnani suggested that if the Islamic State loses its territory, it will resort to guerrilla warfare. Already, the group has stepped up the pace of suicide bombings in Baghdad and elsewhere in an apparent attempt to assert its presence even as it is defeated on the ground.
Brett McGurk, who is President Obama's special envoy to the anti-Islamic State campaign, tweeted that the speech was a sign that the U.S. strategy was working. "Another sign of #ISIL leaders in deep hiding, afraid to appear in public, or already dead," he tweeted, using an acronym for the Islamic State. "Days are numbered."
Washington Post