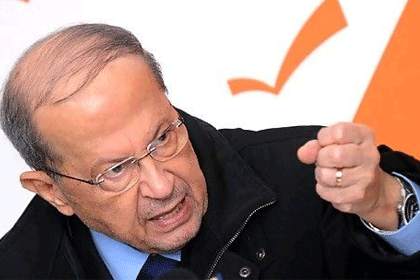 MP Michel Aoun founder and former leader of Free Patriotic Movement vowed to "hold accountable" those responsible for the "intifada" within the party, a source close to movement leader Gebran Bassil told al-Liwaa newspaper.
This development comes after a dispute erupted during the weekend's municipal elections between leading FFM members Asharq al-Awsat daily reported on Tuesday.
Informed sources told the daily that the FPM leadership is studying the possibility of expelling some 20 members, including leading official Ziad Abs, for "rebelling against the movement's decisions."
Abs is a leading FPM figure in Beirut. The dispute erupted over his opposition to the FPM's alliance in the elections with Future Movement chief MP Saad Hariri. The dispute pitted him against former FPM minister Nicolas Sehnaoui, explained al-Joumhouria newspaper.
Abs was allegedly not consulted over the alliance, Asharaq al-Awsat added.
The sources predicted that Abs may be expelled from the FPM as a result of his failure to adhere to the party's decisions.
Abs reportedly joined FPM in 1990, after General Aoun Aoun fled to the French Embassy in Beirut ( and was later granted exile in France ) . He is reportedly a key member of FPM's political bureau .
Asharaq al-Awsat did not name the other FPM members that could be expelled
This error message is only visible to WordPress admins
Error: No connected account.
Please go to the Instagram Feed settings page to connect an account.