Hezbollah chief meets Iran supreme leader's envoy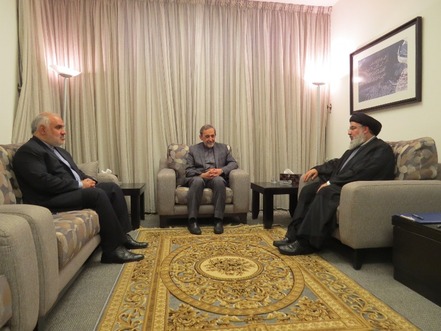 Hezbollah chief Hassan Nasrallah met Thursday at his office with Ali Akbar Velayati, the international affairs adviser to Iran's supreme leader Ali Khamenei, according to   a statement by the party's media office .
The meeting was reportedly  held in the presence of Iranian Ambassador to Lebanon Mohammed Fathali
The 3 discussed "the latest political developments in Lebanon and the region," the Hezbollah statement said.
Both Iran and Hezbollah have provided military support for embattled Syrian President Bashar Assad's regime in its confrontation with  the rebels who are seeking to oust him
Nasrallah is  reportedly planning to  deliver  a televised speech via video link  on Friday afternoon during which he  planning to talk about the latest local and regional developments, most notably those linked to the upcoming municipal elections.
The four-stage municipal elections will start in Beirut and Bekaa-al-Hermel districts on May 8, while the elections in Mount Lebanon will be held on May 15.
Elections in the South and Nabatieh are set for May 22 and on May 29 the polls will be held in the North and Akkar.
Elections postponed in 2 towns
The Interior Ministry announced the postponement of the municipal elections in two east Lebanon towns on Thursday due to security reasons
A ministry statement said the polls in the Zahle district town of Jdita will be delayed "as the electoral battle has taken a sectarian turn." Zahle usually witnesses heated voting battles during elections.
The ministry also said the polls in the West Bekaa district village of Hawsh Harima will be delayed due to "the security situation" in the area. It was unclear what security risks the ministry was referring to.
Jdita residents later in the day protested over the decision. No new dates for the polls were set.