U.S. Defense chief blasts Russian aggression, says Moscow is "going backward in time"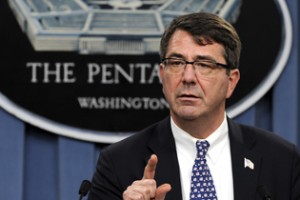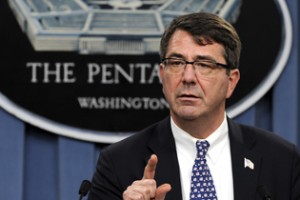 U.S. Defense Secretary Ash Carter blasted what the U.S. and its allies see as Russian aggression in Europe, saying Tuesday that Moscow is "going backward in time" with warlike actions that compel an American military buildup on NATO's eastern flank.
"We do not seek to make Russia an enemy," Carter said at a ceremony to install a new head of the military's U.S. European Command and top NATO commander in Europe. "But make no mistake: We will defend our allies, the rules-based international order, and the positive future it affords us," he said.
Carter's remarks reflect U.S. aggravation with Moscow on multiple fronts, including its intervention in eastern Ukraine, its annexation of Crimea in 2014 and what Carter called Russian efforts to intimidate its Baltic neighbors – countries the United States is treaty-bound to defend because they are NATO members.
Carter said the "most disturbing" Russian rhetoric was about using nuclear weapons.
"Moscow's nuclear saber-rattling raises troubling questions about Russia's leaders' commitment to strategic stability, their respect for norms against the use of nuclear weapons, and whether they respect the profound caution that nuclear-age leaders showed with regard to brandishing nuclear weapons," he said.
The end of the Cold War with the collapse of the Soviet Union in 1991 was thought to have virtually ended the prospect of nuclear conflict with Moscow. But the speeches at Tuesday's change-of-command ceremony emphasized the possibility of history repeating itself, or at least ending a period of warmer U.S.-Russian relations.
Senior White House officials said the U.S. and its partners were shifting into a new phase focused on military deterrence to Moscow. Additional NATO forces that will rotate through countries on Russia's eastern flank will be enough to defend NATO countries if Russia were to attack, said the officials, who requested anonymity to discuss internal deliberations.
To that end, the U.S. plans to add a third U.S. Army combat brigade in Europe in the coming year as part of a $3.4 billion initiative, Carter said. On Monday, he said NATO is considering establishing a continuous rotation of up to 4,000 troops in the Baltic states and possibly Poland.
That force, which could include some U.S. troops, is among options expected to be considered at a NATO defense meeting in June. U.S. officials said they were encouraging other NATO members to commit troops to the force as well.
But U.S. attempts to control or direct Russia haven't fared well. The U.S has been unable to end Russia's occupation of parts of Ukraine and support for separatist rebels. And Washington is desperately seeking Moscow's help to enforce a cease-fire in Syria between the Russian-backed government and Western-supported rebels, and eventually usher President Bashar Assad out of power.
On both fronts, the United States has been running into brick walls with the Russians.
U.S. officials said that they had "explicitly compartmentalized" the various issues the U.S. is discussing with Russia. Yet it's unlikely that Russia's government sees it that way.
The U.S. and NATO have sought to avoid provoking Moscow more than necessary, such as opting against opening new bases or permanently stationing troops in the Baltic countries. The Kremlin has raised concerns that permanent basing would violate a 1997 NATO-Russia agreement that prohibits permanent basing "in the current and foreseeable security environment," and senior U.S. officials said that NATO had decided to abide by those provisions.
Carter said he regretted the deterioration in relations with Moscow.
"We haven't had to prioritize deterrence on NATO's eastern flank for the past 25 years, but while I wish it were otherwise, now we have to," he said at an outdoor ceremony, speaking from a podium framed by birch trees and drenched in sunshine.
Carter emphasized his hope that Russia will abandon what he called its confrontational approach.
"The United States will continue to hold out the possibility that Russia will assume the role of a constructive partner moving forward, not isolated and going backward in time as it appears to be today," he said. "Much of the progress we've made together since the end of the Cold War, we accomplished with Russia. Let me repeat that. Not in spite of Russia, not against Russia, not without Russia, but with it."
Carter made no mention of two post-Cold War developments that many believe prompted, at least in part, Russia's turn away from the West, namely, the expansion of NATO to Russia's very doorstep and U.S. placement of missile defenses in Europe.
"We'll keep the door open for Russia," he said. But it's up to the Kremlin to decide."
Army Gen. Curtis "Mike" Scaparrotti was installed Tuesday as head of U.S. European Command and the top NATO commander in Europe. Scaparrotti most recently commanded U.S. and allied troops in South Korea and has commanded troops in Afghanistan. He succeeds Air Force Gen. Philip Breedlove, who has pointedly and repeatedly warned that NATO must better prepare for an adversarial relationship with Russia.
ASSOCIATED PRESS