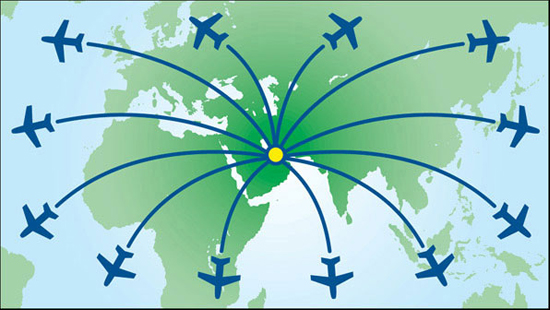 The scene in the crowded press facility the first morning of the 2013 Dubai Airshow was enough to rattle the pillars of international aviation — and it had nothing to do with the desert sandstorm blowing outside.
A parade of the Gulf emirs in flowing white-and-gold dishdashas, surrounded respectfully by grinning top executives from Boeing and Airbus, took turns announcing orders for new jets worth more than the gross domestic product of two-thirds of the world's nations.
In a few hours, the gulf's three big airlines — Dubai-based Emirates, Etihad Airways of Abu Dhabi and Qatar Airways — had ordered as many long-range wide-body jets as United Airlines and American Airlines had in their entire fleets combined. Emirates' order for $99 billion worth (at list prices) broke commercial aviation records. For the great legacy airlines of the United States and Europe that had ruled the international skies for decades, the stunning display of financial firepower and competitive ambition made the show's slogan — "The World is Coming" — seem like a threat.
It was the capstone of a supersonic climb-out for the gulf airlines that has triggered a lobbying, legal and political battle in Washington — and a parallel push in Brussels — unmatched for its rancor, even for the raucous business of international aviation. For well over a year, Delta Air Lines, United, American and their labor unions have waged a multimillion-dollar fight to get U.S. officials to block their Gulf rivals from expanding in the United States. Then-United chief executive Jeff Smisek reportedly called them "the biggest single threat to our newfound prosperity" in a July 2015 speech to the Wings Club, a professional society.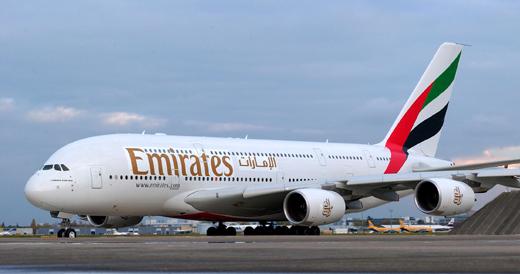 This fight is not just about legacy companies trying to hold market share against entrepreneurial upstarts — a dynamic in aviation since the likes of People Express fought to wrest a slice of transatlantic travel from British Airways three decades ago. Today's Gulf challenge is more fundamental, a new business model that relies on three tectonic shifts in global aviation: a gulf-ward lurch in the world economy's center of gravity; a dramatic loosening of trade restrictions on where, when and how the world's airlines can fly; and the emergence of the "aerostate," where world-class aviation is a critical economic engine deeply integrated with the state itself.
That perceived threat to U.S. airlines is gathering as plummeting oil prices are driving wealthy gulf petro-states to diversify and exploit their geographic advantage to emerge as the world's aerostates. They may soon be joined by Saudi Arabia, whose new $2 trillion post-petroleum economic transformation plan could exploit these same aviation-powering shifts.
The gulf airlines are nothing like the typically underfunded, overmatched new entrants to global aviation — who remembers Eos, Silverjet and L'Avion? — that rarely survive. Buying scores of $400 million jets at a time and building massive, round-the-clock hubs across the desert, they offer top-tier fliers a luxury travel option that old-line airlines cannot efficiently replicate. While Emirates offers bottomless flutes of Dom Pérignon, private suites and onboard showers, Etihad's three-room flying "Residence" comes with your own "Savoy-trained" butler and personal bathroom.
It's been a stunning ascendancy. Camels still roamed Dubai's packed-sand runway when NASA was testing moon rockets in the early 1960s; decades earlier, reaching the gulf by air meant catching Imperial Airways' weekly "flying boat" stopover on its round-the-empire circuit from London.
The gulf's big three
Today the trio of large gulf airlines fly to more world cities than all U.S. airlines combined. Emirates, the world's largest airline by global capacity, carries a million passengers every week on average, is the world's largest operator of the world's largest passenger airplane (the Airbus A380) and flies from the world's largest air terminal at the world's busiest international airport. Etihad, also based in the United Arab Emirates, started in late 2003 and once described itself as the fastest-growing airline in history. And Qatar Airways, in the tiny nearby kingdom with the world's highest per-capita GDP, has grown sixfold in a decade.
For these former colonies long ignored at the far edge of modernity, world-class aviation speaks eloquently of having arrived — no less than the world's tallest building in Dubai, a branch of the Louvre in Abu Dhabi or the World Cup in Qatar. Turning remote pieces of desert into functional air hubs costs the kind of money only wealthy aerostates could afford; creating favored way points for world travelers, "frictionless" 24-7 oases of relaxation and spending — Dubai's vast duty-free shopping mall reportedly is the largest airport retailer on Earth — costs billions of dollars more.
Much of these airlines' startling success is built not only on the backing of the aerostates but also on a key advantage their Western rivals could never replicate — their location at the crossroads of the new global economy. The world's economic center of gravity has for two decades raced southeastward from the North Atlantic "at a speed and on a scale never before witnessed," according to a McKinsey Global Institute report.
Today, Gulf air hubs are within nonstop long-haul jet range of more than two-thirds of humanity — including nearly every sizable human settlement on the planet. They are also optimal stopover points for saving fuel on global journeys. On the 7,000-mile flight path from London to Singapore's financial center, Dubai is midway. No wonder its new mega-airport is named "World Central."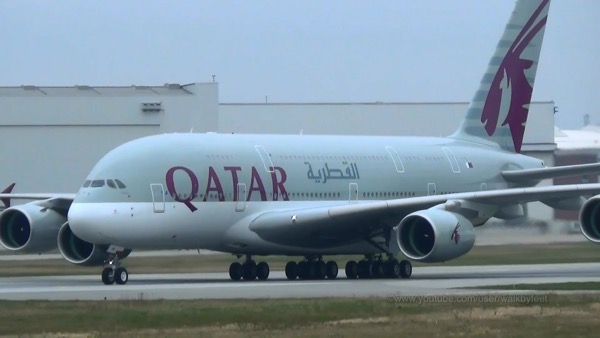 European legacy carriers such as Air France and Lufthansa were early to react to the gulf's rise as high-revenue passengers bound for India and Southeast Asia switched to the glitzy gulf upstarts.
By dint of geography, though, U.S. airlines rarely competed head to head with gulf airlines; after years of financial free fall, they were more focused on making money at home in a rich domestic market where foreign competitors are barred by law. That didn't last.
The gulf airlines' 2013 shopping spree in Dubai was, said industry trade association Airlines for America, "a wake-up call." But what really triggered angst in U.S. airline boardrooms was when, six weeks earlier, Emirates launched a daily flight between New York and Milan. Gulf airlines then flew about 120 times a week from U.S. cities but carried passengers mainly headed to Pakistan, Kenya, Bangladesh or the Gulf itself — places U.S. airlines barely ventured. Taking New Yorkers to Italy, though, was viewed as a raid on the transatlantic business corridor that the airlines and their European Union joint-venture partners practically owned, "routes that are vital drivers for U.S. carriers' profitability," the airlines later complained.
In 2011, the chief operating officer of Airbus, John Leahy, told the New York Times that the gulf cadre "should strike fear in the hearts of airlines around the world."
Open skies
Several years later, it had. By early 2015, a coalition of the three big U.S. airlines and their unions, led by Delta, said their state-backed rivals posed "the single greatest threat to the U.S. aviation industry" and pleaded for government action to "stem the tide."
"We're not competing against airlines," United's Smisek reportedly told a U.S. Chamber of Commerce aviation conference in 2015. "We're competing against the treasuries of gulf nations, and that's an impossible task."
Even Washington couldn't remake global economic geography, but the other two pillars of gulf aviation success were more vulnerable: the liberal air-trade agreements — known as "open skies" — that let gulf airlines fly unrestricted to and from (though not within) the United States, and the aerostates themselves, whose nurturing of their airlines might be challenged on unfair-trade grounds.
Getting federal officials to tear up or renegotiate the gulf open-skies deals that let those carriers access the vast U.S. market at will — and that gave U.S. carriers reciprocal rights in the Gulf states — would be a simple way to staunch their U.S. expansion, and it would tap into ever-louder anti-trade voices across the political spectrum.
But a frontal assault on open skies was problematic. The U.S. deals with the UAE and Qatar were signed in 1999 and 2001, years before the first gulf flight to the United States, as part of a global effort to deregulate worldwide aviation. The United States has signed nearly identical ­market-opening agreements with about 120 countries since 1992.
Over two decades, open skies had become the lodestar of U.S. aviation policy, with the support of travelers — who benefit from competition and additional air service to the tune of $4 billion annually, according to a Brookings Institution study supported by the Federal Aviation Administration — and the support of the big U.S. airlines, which saw its power to pry open for them the world's richest, most protected air markets. (Few worried then about the remote risk that a strong foreign airline might one day use its reciprocal access rights to conquer U.S. international markets.) Attacking a policy that for two decades remained an island of bipartisan consensus in a contentious sea of international trade would arouse resistance inside government.
Not to mention that other powerful players in U.S. aviation ardently support open skies. They include large, job-generating airports; tourism-focused cities such as Orlando and Las Vegas that have spent millions to attract, not deter, foreign airlines; and Boeing, the United States' export leader, which has more pending orders for wide-body planes to the Mideast than to any other region.
Even U.S. airlines are split. Domestic carriers such as JetBlue and Alaska Airlines not only don't compete with the gulf carriers — they co-market with them. FedEx, a Fortune 100 firm with 300,000 workers, 660 aircraft, a $12 million-plus annual lobbying budget and as much political heft as all the passenger carriers combined, relies on expanding open skies to manage its globe-spanning express network with top efficiency, and it has a big hub in Dubai.
Nobody was about to tear up open-skies agreements.
Challenging the aerostates themselves as instruments of unfair trade was more promising. Their view is that the gulf states, enmeshed with aviation enterprises they consider critical national assets, afford their airlines what American's CEO, Doug Parker, called "enormous subsidies . . . in amounts that are unprecedented in the history of international trade," as well as unfair advantages that include favored regulatory, fiscal and political policies. Together, these make them all but impervious to normal competitive forces.
Support or subsidies?
The gulf region's support of aviation is broad and unapologetic. World-class aviation is indispensable to expanding the region's leading industries, such as logistics, finance and high-end tourism. (By some counts, Dubai has more than twice as many luxury hotels as New York.) Aviation will soon account for nearly a third of Dubai's GDP and 30 percent of its employment. That support isn't all as obvious as sprawling new airports.
When an airline's management, shareholders and regulators are one and the same — the uncle of Dubai's ruler chairs Emirates and heads the aviation regulator — business decisions are quicker and easier. Airlines, like other gulf firms, pay no income taxes; passengers who use gulf hubs to connect to other flights pay no airport user fees, either (though that will soon change). And regulation is predictably kinder and gentler, too. No airport noise curfews ground gulf fleets at night, and when Etihad stranded a plane-load of passengers on the fog-bound Abu Dhabi tarmac for 12 hours in early 2015, it apologized to the trapped fliers — but no U.S.-style "bill of rights" promises to compensate stranded airline customers. And effective government bans on labor strikes and unions make life simpler and probably cheaper for airline employers.
For U.S. rivals, casting the fight against the gulf airlines as a trade battle for American jobs and competitive fairness worked tactically as well as politically. It avoided challenging the popular open-skies policy itself and shifted the ball to officials at the Office of the U.S. Trade Representative and the Commerce Department who had no great allegiance to the policy, developed and implemented for a quarter-century by the Transportation Department and the State Department.
Even so, forcing U.S. action would take more than just complaining about "unfairness" to an ever-skeptical public and government.
Justified or not, Americans simply do not love their airlines. Consumers consistently rank them near the bottom of the annual American Customer Satisfaction Index, barely ahead of health insurers, telephone and Internet providers, and the Postal Service. Nickel-and-diming fees and vanishing legroom don't help.
Government officials tend to see airlines as complaining constantly about government action or inaction — they are invariably overtaxed, overregulated, underappreciated and beset by irrational, cowardly bureaucrats.
Smisek, the former United CEO, bitterly remonstrated at a Deutsche Bank investor conference that "our government clearly is not here to serve or protect in relation to the gulf carriers. They don't have the teeth, nor do they have the desire." Meanwhile, major U.S. airlines were racking up record profits, with average 2015 margins near 15 percent, more than double the year before. Career officials had heard it all before.
Hundreds of footnotes
U.S. airlines needed a bill of particulars so detailed, lawyerly and "compelling," as American's Parker put it, that skeptical officials could not fail to respond. Outraged officials might be persuaded to act quickly, even unilaterally, without inviting an endless, in-the-weeds back-and-forth between each side's K Street law firms.
The chief executives of the United States' three largest international airlines took the fight right to the top in a two-day series of private Cabinet-level meetings in January 2015. They presented a confidential 55-page, 216-footnote white paper prepared by powerhouse Washington law firm WilmerHale, registered to lobby for Delta, according to the Center for Responsive Politics. The ask: that the United States invoke formal consultations with the UAE and Qatar that might lead to abrogating their open-skies agreements, meanwhile freezing their U.S. expansion.
The only thing busy senior politicos would probably read was the accompanying spiral-bound slide presentation or the airline coalition's website, which made the airlines' case simple and ominous: "Fueled by massive government subsidies, state-owned [gulf airlines] are aiming to dominate global aviation by exploiting open skies policy." And: "This threatens our U.S. airline industry, airline jobs and the U.S. economy."
Rhetoric aside, the core charge was that the three gulf air carriers had collectively over 10 years received state subsidies and "unfair benefits" worth $42 billion.
The details were ultimately released at the National Press Club five weeks later. Calling the allegations "tosh" and "bluster and flimflam," Emirates' British president, Tim Clark, promised "a very robust response" — but that would naturally require time. "All we ask is . . . a chance to respond," he said.
How could processed-focused officials refuse? It may have been the turning point in the battle.
Stuck on the tarmac
The U.S. airlines had remarkable access to top officials, plus deeply unsympathetic opponents — oil-rich gulf sheiks stealing American jobs. (Delta CEO Richard Anderson reminded a CNN interviewer that "terrorists from the Arabian Peninsula" — where the gulf airlines are located — were responsible for 9/11.) But U.S. airlines faced an even more potent force: the inherent inertia of government decision-makers confronting hotly contested issues.
Gulf carriers only had to draw things out until opposition arose from other U.S. constituencies— such as FedEx or Boeing or the vast American tourism industry or defense interests loath to antagonize critical Middle East allies. Then officials would hesitate to act before all sides had a full opportunity to weigh in.
By mid-June 2015, Emirates published its 192-page point-by-point response, laden with its own appendices and 359 footnotes, and had its own set of Washington meetings. Qatar Airways and Etihad added their own voluminous filings to the mix. Not to be out-papered, U.S. airlines replied two months later with a 491-page tome whose table of contents alone ran five pages, slamming the gulf submissions as "nonsense" and "transparently false."
As lawyers battled in a thicket of rhetoric and obscure statistics, the gulf carriers announced plans to dramatically expand their U.S. service, with new or increased flights to Orlando, Boston, New York, Los Angeles and Seattle. Qatar announced — unusually, a year in advance — that it would start service in Atlanta, the key hub of Delta.
Prospects for fast government action dimmed further as thousands of public submissions — many generated by the U.S. airline coalition's online campaign — piled up on the desks and screens of government analysts. The responsible federal agencies announced in April they would "open a docket" — an official repository for all the "stakeholder" rants, online petitions, statistics and opinions, paid for and unpaid for — but soon announced that "we do not expect to close the joint docket in the foreseeable future. We do, however, encourage submissions as soon as practicable in order to promote a robust dialogue amongst stakeholders and provide the U.S. government sufficient time to evaluate the information."
Some real contestable disputes were buried in the angry exchanges between the U.S. and gulf carriers. Even the headline charge — that the gulf airlines together received $42 billion in subsidies over 10 years — blurred the fact that Emirates, by far the largest, strongest and oldest gulf carrier, allegedly got a relatively small proportion, and much of it years earlier. The smaller, newer gulf airlines, Etihad and Qatar, had received huge favorable or ­interest-free government-backed loans, but whether they were subsidies and "implicitly guaranteed loans," as U.S. airlines said, was hotly debated. "Subsidized no, but supported, yes," replied Qatar's outspoken CEO, Akbar Al Baker, who years earlier had dismissed similar claims as "crap."
Harder to dismiss was the gulf carriers' argument that when it comes to governments supporting their national airlines, everybody does it. In the United States, a federal "essential air service" program subsidizes flights to rural communities; states and localities give handouts and tax breaks to airlines; and bankruptcy laws have allowed virtually all large U.S. carriers to eliminate debt and rewrite labor contracts, a benefit British Airways' former CEO Rod Eddington once called "backdoor state aid," albeit not a typical subsidy. (Normal World Trade Organization rules barring subsidies do not apply to international air services.)
The big three U.S. airlines had another promising card to play — the labor card. Airline labor had been hammered by the industry's financial decline — and ensuing rash of bankruptcies — in the decade after 2001, and they were a more sympathetic victim in the public eye than the airlines that employed them. And in a presidential election year, labor would play a pivotal role as major candidates in both parties vied to excoriate the "theft" of U.S. jobs. U.S. airlines soon pronounced their battle against the gulf carriers "a fight for American jobs."
Up in the air
Just three weeks ago, American's Parker reiterated the rise of gulf airlines as "the biggest threat I've ever seen to commercial aviation in the United States." Delta's executive vice president, Peter Carter, asserted that "this is our number one priority in Washington."
Still, more than a year since the nation's major airlines urged government action, nothing of substance has happened, at least publicly, and little seems imminent — despite some back-channel conversations "on the margins," as diplomats say. A tight-lipped Transportation Department says only that it "takes seriously the competition concerns raised by our airlines," and the State Department has said even less.
Theoretically, Congress could try to legislate some fix — the three major U.S. airlines did secure a letter signed by 262 House members urging the secretaries of transportation and state to act to "stem the tide of subsidized capacity" — but so far there's been no such push and an election-year Congress has had other priorities.
That doesn't mean the costly battle — by one industry estimate, over a million dollars a month at its height — was all for naught. U.S. airlines showed solidarity with their workers who might otherwise focus on extracting a larger slice of the industry's growing profits, and if the big travel story was about U.S. carriers battling oil-rich "sheiks," it wasn't about crowding, nickel-and-diming and fare hikes.
The new aerostates, long petrostates, pose a challenge, but the gulf trio is not about to upend U.S. leadership in global aviation. Even as they send fleets of luxe super-jumbos to the U.S. market — where the money is after all — they face other challenges. Some key markets, in China, India and the Gulf itself, are slowing, and currency devaluations are cutting into their revenue. They face their own competitive threats from other potential aerostates such as Turkey, already a developing aviation power, and one day maybe — geopolitics permitting — Ethiopia or Oman or Iran or Saudi Arabia or Israel, which share their same happy mix of economic geography, state investment and cheaper labor.
"Aviation," as Etihad CEO James Hogan observed, "is a long game."
Gerchick, a former senior aviation official at the Transportation Department, is the author of "Full Upright and Locked Position."
Etihad Airways
17 million Passengers carried last year on this Abu Dhabi-based airline. Launched in 2003, Etihad once called itself the "fastest growing airline in the history of commercial aviation."
Qatar Airways
Sixfold Growth over the past decade. The airline, started in 1993, is owned by the government of Qatar, which has the world's highest per-capita gross domestic product.
Emirates
1 million Passengers carried every week on average on this Dubai-based airline. Emirates is the largest operator of the Airbus A380, the world's largest passenger airliner.
In five years, the big three Gulf airlines have doubled their U.S. destinations. This year, they will fly nonstop from their hubs to 13 major U.S. cities, and all three airlines now serve Washington Dulles International Airport.
The Emirates airline plans to fly from Dubai to Panama, an entry point to South and Central America. Scheduled for 17 hours and 35 minutes, the trip will be the world's longest-duration nonstop flight.
The big three gulf carriers have more than twice as many wide-body airplanes on order as all U.S. airlines do.
Gulf airlines' share of travelers between the United States and the Indian subcontinent more than tripled between 2008 and 2014. Today only one U.S. airline, United, flies to India.
Dubai International overtook London's Heathrow last year as the world's busiest airport as measured by international passenger traffic.