Amal Clooney slams Trump, his wall and his values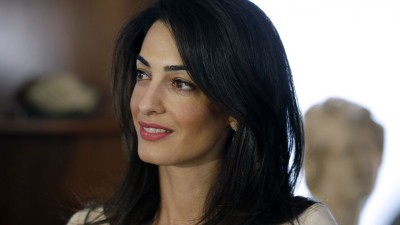 Amal Clooney, the British-Lebanese human rights attorney who has been married to Hollywood actor George Clooney since 2014, says populist GOP frontrunner Trump doesn't represent "U.S. values."
In a BBC interview Monday evening, the 38-year-old criticized "the leading candidate on the Republican side" for proposing "building walls" and a temporary pause on Muslim immigration into the United States.
She then paraphrased Trump and defended Muslims who she says are "not extremist or violent."
"If you actually look at what [Trump] specifically says in that now infamous speech about Muslims, he kept saying, 'They only want jihad; they don't believe in our way of life; they don't respect our system,'" she said.
She continued: "And when he says 'they'… And, you know, you watch the media coverage afterwards and people should've been saying, 'Do you mean the 1.5 billion people around the world who fit that description? Do you mean the people who are U.S. citizens, who are members of your military, the vast majority of whom are not extremist or violent in any way?'" Her mother is a Sunni Muslim.
Amal Clooney added she is "perplexed" by the success of Trump's campaign.
"If, at the end of all of this, he gets beaten by the person who becomes the first female president of the United States, then I think that would send a very positive message from the electorate back to him as to what they really think of those points of view," Clooney said.
She concluded: "I don't think they are U.S. values."
Amal Clooney and her husband George both support Hillary Clinton's White House bid. Mr. Clooney, who has pushed for open borders, recently described Trump as a "xenophobic fascist" who want to "ban Muslims from the country" during an interview with The Guardian.
Clooney added: "Now, we're not ever going to do that… It says in the Statue of Liberty, bring us your huddled masses. It's not what's going to happen.
The Clooneys have taken extensive measures to ensure they have privacy and security at their homes, including their $10 million Lake Como estate in Laglio, Northern Italy.
Roberto Pozzi, mayor of Laglio, issued an ordinance in 2015 to protect the solace of the couple and their property. The area surrounding the estate is now off limits to unwanted guests, and anyone who gets too close to the property faces a stiff fine.
One local fisherman complained of the ordinance, saying he could no longer park his car in the area while fishing.
"I used to be able to leave my car here on the ramp leading down to the water, but now I can't—I'd get fined by the police," fisherman Livio de' Angeli said. "You're not allowed to park anywhere near the villa and you can't take a boat within 100 meters of the house. It's like living in a mini dictatorship."
The Clooneys hosted a pair of exclusive fundraisers for Hillary Clinton in California earlier this month. Neither event was open to the public.
Breitbart