US concerned over Russia's military moves in Syria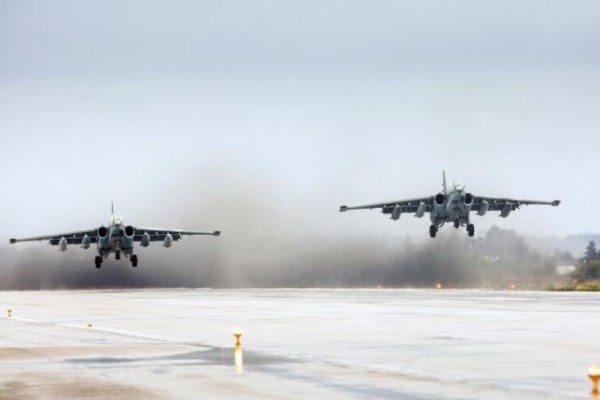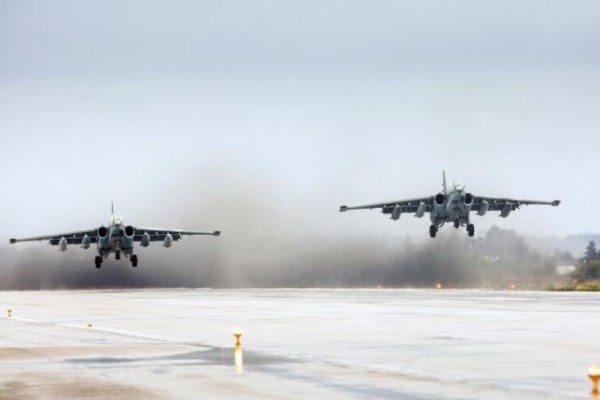 The United States said on Thursday it was concerned about reports that Russia is moving more military equipment into Syria to bolster President Bashar al-Assad, with a truce in tatters and peace talks in meltdown.
Asaad Zoubi, chief negotiator for the main Syrian opposition, the High Negotiations Committee (HNC), said all its members will leave the peace talks in Geneva by Friday, with little prospect of a resumption unless the situation on the ground changes radically.
U.N. special envoy Staffan de Mistura will decide on Friday whether talks to end the five-year war that has killed at least 250,000 people can go on without the HNC, and with combatants accusing each other of breaking a February ceasefire deal.
Two Western diplomats said it looked like de Mistura would continue the talks until next Wednesday given the late arrival of the Syrian government delegation.
"The HNC stayed the course, including through extended technical discussions on real substance," one said. "It's natural that the special envoy may continue discussion with those still in town who have yet to offer any real ideas, to press them to do so."
A second diplomat said some experts from the HNC would remain for technical consultations.
HNC spokesman Salem al-Meslet suggested de Mistura might be better off preparing for the next round of talks and ensuring the government was serious.
A U.S. official told Reuters on Thursday that Russia has been repositioning artillery to northern Syria — a move that may suggest the Syrian government and its allies are preparing another assault on the divided city of Aleppo.
"It's understandable that the opposition felt unable to stay further given sustained regime attacks on Syrian civilians and continuation of siege and starvation tactics," said one senior Western diplomat. "Those who back the regime need to get a leash on them."
The arrival of Russian reinforcements would risk driving the war into an even higher gear. Russia's defense ministry did not immediately respond to a Reuters request for comment.
Russian President Vladimir Putin expressed concern over a "serious degrading of the situation" at the peace talks, a Kremlin spokesman was reported as saying.
The HNC, which is backed by Western nations and key Arab states, had this week urged more military support for rebels after declaring the truce was over and said talks would not re-start until the government stopped committing "massacres".
The talks aim to halt a conflict that has allowed for the rise of the Islamic State group, sucked in regional and major powers and created the world's worst refugee crisis.
"I'm saddened and believe it's a mistake," said a Western diplomat of the opposition's decision.
"It will be very difficult to find a pretext for them to return given the situation on the ground and now the regime knows that a bombing will ensure they stay away," he said, referring to an air strike this week that killed dozens.
REBELS VOW TO FIGHT ON
France, which accused the government of rushing "headlong" into violence and showing its refusal to negotiate a political solution, said it would consider with other European powers and the United States the idea of convening a ministerial meeting of major powers in the next two weeks to work out what to do.
"If the regime insists on stubbornness, obstruction and rejection of international resolutions, we will continue our revolution," Abdullah Othman, head of the politburo of the Levant Front rebel fighting group, told Reuters. "Our only option is to realize the revolution's goals."
The crushing in March 2011 of pro-democracy protests in the southern city of Deraa triggered demonstrations across Syria that ignited into widespread unrest and a multi-sided civil war.
Syria is now a patchwork of areas controlled by the government, an array of rebel groups, Islamic State, and the well-organized Kurdish YPG militia.
Far from the main frontlines between government forces and rebels in western Syria, Kurdish groups were fighting one of their most serious battles yet with government forces in the northeast. A Syrian Kurdish official said more than 21 pro-Damascus militiamen had been killed in two days of battles in Qamishli, near the Turkish border.
It was a rare confrontation between sides that have mostly left each other alone since the start of the conflict in 2011, and underlined growing Kurdish power that has alarmed neighboring Turkey. Syrian government officials could not be reached for comment.
With violence escalating, Syria's fragile peace talks might not resume for at least a year if they are abandoned, one senior Western diplomat warned.
"DESTROYING TERRORISM"
Endorsed by the U.N. Security Council, the Geneva peace talks marked the most serious effort yet to resolve the war but failed to make any progress with no sign of compromise over the main issue dividing the sides: Assad's future.
Government negotiators say Assad's presidency is non-negotiable. Underlining confidence in Damascus, a top Assad aide reiterated its view that local truce agreements and "destroying terrorism" were the way towards a political solution.
The opposition wants a political transition without Assad, and says the government has failed to make goodwill measures by releasing detainees and allowing enough aid into opposition-held areas besieged by the military
The war was tilted in Assad's favor last year by Russia's intervention, supported on the ground by members of the Iranian Revolutionary Guard Corps who have been bolstered recently by the arrival of members of Iran's regular army.
"We've been concerned about reports of Russia moving materiel into Syria," Ben Rhodes, deputy national security adviser to President Barack Obama, said at a news briefing in Riyadh where Obama was at a summit with Gulf Arab leaders.
"We think it would be negative for Russia to move additional military equipment or personnel into Syria. We believe that our efforts are best focused on supporting the diplomatic process."
Press reports in the United States indicated that Russia has moved more artillery into Syria, weeks after declaring a partial withdrawal of its military presence there. Analysts said the Kremlin had changed rather than diluted its military power by increasingly relying on helicopters to support the Syrian army.
States opposed to Assad have been channeling military support to vetted rebel groups via both Turkey and Jordan, in a program that has included military training overseen by the U.S. Central Intelligence Agency.
BATTLE FOR ALEPPO
The U.S. official, who spoke on condition of anonymity, said the repositioning of Russian artillery and some forces near Aleppo followed the Syrian government's recapture of the city of Palmyra from Islamic State.
The Russian military said on Thursday it had completed the demining of the ancient part of Palmyra.
The widely violated truce began fraying some two weeks ago near Aleppo, where the Syrian army accused rebel groups of taking part in assaults by Islamists who are not covered by the ceasefire. Rebels say they were defending themselves from attacks by the army and its Shi'ite militia allies.
Aleppo is divided into areas controlled separately by the Syrian government and opposition. To the north of the city, meanwhile rebels have been battling the Islamic State group, forcing more people to flee.
Heavy air strikes have also resumed in opposition-held areas of Homs, with new battles also erupting in Latakia province.
Reuters