Iran's Ayatollah attacks Saudis: 'Corrupt, sycophantic, hollow regime … to hell with it'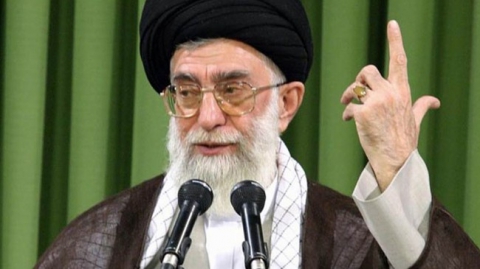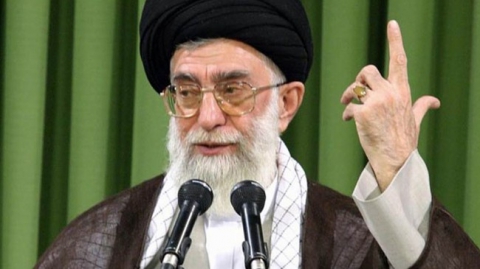 In some of his harshest rhetoric yet aimed at Saudi Arabia, Iranian supreme leader Ayatollah Ali Khamenei on Wednesday described the Sunni kingdom as a "corrupt, sycophantic, hollow regime," and declared, "to hell with it."
Speaking on the day President Obama arrived in Riyadh, Khamenei lashed out at a Saudi-led campaign to isolate Iran by attacking its proxy militia in Lebanon, Hezbollah. In recent weeks the campaign has seen the six-nation Gulf Cooperation Council, the Arab League and the Arab Parliament one by one label Hezbollah a terrorist organization.
The drive spearheaded by Riyadh also resulted in an Organization of Islamic Cooperation (OIC) summit outcome document last week that condemned both Iran for "its continued support for terrorism," and Hezbollah "for conducting terrorist activities in Syria, Bahrain, Kuwait and Yemen."
Khamenei hit back in a speech to the Union of Islamic Pupils' Associations.
"Let's suppose a corrupt, sycophantic, hollow regime condemns Hezbollah in a statement, with money and petrodollars – to hell with it!" he said. "How much does it matter?"
The ayatollah praised Hezbollah, highlighting its military exploits against Israel and saying that it was showing off its power in the Muslim world "despite abundant practical and propagandistic threats."
"Hezbollah and its youths are shining like the sun and are a source of honor for the world of Islam," he said, in reference to the U.S.-designated foreign terrorist organization responsible for the deaths of more Americans than any other group before al-Qaeda's attack on 9/11.
Iranian and Hezbollah forces are fighting in Syria in support of the Assad regime. Saudi Arabia and other Gulf Arab states want to see the regime defeated and are backing rebel groups battling to achieve that end.
Iran and Saudi Arabia are also backing rival forces in the civil war in Yemen, where a Saudi-led airstrike campaign targeting Shi'ite Houthi rebels has cost more than 6,000 lives according to the U.N., many of them civilians.
Khamenei's speech came on the day Obama held talks with King Salman, during a visit overshadowed by Saudi perceptions of a U.S. tilt towards Iran. The kingdom worries that the Iran nuclear agreement and sanctions relief will worsen its rival's behavior in the region – anxieties exacerbated by Iran's ongoing intervention in Syria and a series of ballistic missile launches.
Iranian supreme leader Ayatollah Ali Khamenei lashed out at Saudi Arabia while addressing thousands of members of the Union of Islamic Pupils' Associations in Tehran on Wednesday, April 20, 2016. (Photo: Office of the Supreme Leader)
Khamenei used the address to attack the "hegemonic" U.S. too, declaring that "a covert soft war" had been declared on Iran by "the U.S. and Zionists and their followers."
"Sometimes they threaten us with hard war and bombing, but such remarks are bombastic rhetoric because they have neither a smoking gun nor the courage to do so and if they do so they will be delivered a punch in the mouth," he said.
In the "soft war" which Khamenei said was underway, Iran needed "pious, revolutionary, determined, industrious, thought-developing, courageous and devout" youths to stand up to the enemy, he said.
If instead the country had "submissive, easily fooled, unmotivated and thoughtless youths who trust the enemy's smile," Khamenei added, then the battle's outcome was a foregone conclusion.
"The Westerners, particularly the Americans, want Iranian youths to be faithless, uncourageous, unmotivated, non-dynamic and hopeless elements," he warned.
CNS