Obama: US to provide Iraq with special forces, Apache helicopters to retake Mosul from IS
U.S. President Barack Obama says he expects that by the end of the year conditions will be in place for Iraqi troops to eventually recapture the northern city of Mosul from Islamic State militants.
In a CBS News interview aired Monday, Obama stressed the need to support the Iraqi forces who are doing the ground fighting.
"We're not doing the fighting ourselves, but when we provide training, when we provide special forces who are backing them up … when we are gaining intelligence, working with the coalitions we have, what we've seen is that we can continually tighten the noose," said Obama.
Earlier Monday, during a visit to Baghdad, Defense Secretary Ash Carter announced the U.S. is providing more than 200 additional troops and several Apache attack helicopters to assist Iraqi forces in retaking Mosul.
Carter said the new U.S. troops would be mainly advisers needed to help with the logistics of advancing Iraqi troops further from their bases as they encircle Iraq's second largest city. He said they would advise at the brigade and battalion headquarters level.
"Everyone knows the fight of Iraq is the fight for Mosul," a senior U.S. defense official said. "Mosul is the end game in Iraq."
Iraqi forces began an offensive to retake the IS stronghold on March 24.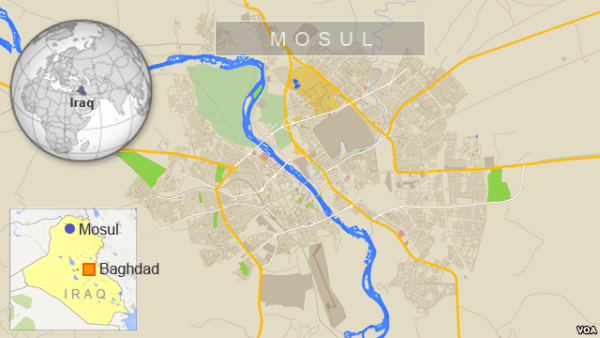 A senior defense official says a total of eight Apache attack helicopters will be sent to aid in the battle.  U.S. troops are needed to fly and maintain them.  Last year, Iraqi officials declined a U.S. offer for Apache helicopters in the battle to retake Ramadi from IS, but the U.S official noted that the fight for Mosul will be even more difficult.  The city fell to IS militants in the summer of 2014.
Carter on Monday also announced the United States will increase funding for Kurdish Peshmerga forces in northern Iraq, with a senior official saying the amount will be about $400 million.
Secretary Carter traveled to Iraq Monday to talk with his commanders and Iraqi leaders about ways the U.S. can ramp up the fight against IS militants in Iraq and Syria.
He met with Prime Minister Haider al-Abadi and Minister of Defense Khaled al-Obaidi before speaking by phone with Kurdish President Masoud Barzani.
Carter's visit was his third to Iraq as secretary of defense.