Cuba awaits decision of Communist Party on younger leadership
Cubans will find out on Tuesday whether President Raul Castro's call for younger blood in the Communist Party will mean some of the septuagenarian and octogenarian leadership in power since a 1959 revolution will retire now or not for another five years.
Castro, 84, has called for sweeping changes in the management of Cuba's Soviet-style command economy and wants top leaders to retire at 70, but he also has made clear that such changes must not be rushed.
The Communist Party, which was founded in 1965 and is seen as more powerful in Cuba than the government, will reveal its new leadership at the closing session of the party congress later on Tuesday. Major changes would be a surprise.
Party delegates chose the members of the party's top governing bodies on Monday but the results have not yet been announced. Among those voting was former president Fidel Castro, 89, who sent his vote in an envelope carried by his younger brother Raul. Fidel Castro also was seen at the congress on Tuesday.
At the weekend, Raul Castro proposed 60 as the maximum age for joining the party's central committee with a limit of two five-year terms. But he said the next five years would be for transition and such rules would not be fully applied until then.
The congress, held no more than twice a decade, is not due to reconvene until 2021. Castro steps down as Cuba's president in 2018 and it is not yet clear whether he will stay on as party leader for the full five-year term if re-elected on Tuesday.
His No. 2 in the party, Jose Ramon Machado Ventura, 85, fought alongside Fidel Castro and Ernesto "Che" Guevara in their rebellion against a U.S.-backed government in the 1950s.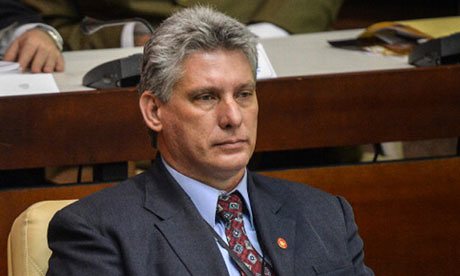 There are younger faces in senior roles, including Miguel Diaz-Canel, 55, who as first vice president of the country is widely seen as Raul Castro's successor. He also has a senior position in the party.
PROMOTING THE YOUNG
Castro said on Saturday that his proposal would allow the young to be promoted more quickly in the party – key to securing the relevance of an institution that has suffered falling membership in recent years.
He also said the party should represent more women and Afro-Cubans. The top leadership is currently overwhelmingly white and male.
On Monday Diaz-Canel read out a resolution adopting Castro's main proposals, including the need to speed economic reforms begun in 2011 that have only been partially implemented.
Echoing Castro, Diaz-Canel said the party needed to overcome bureaucratic resistance and "obsolete thinking" to push ahead with economic reform.
The party adopted 50 new reforms but gave scant details of what they included. The previous 313-point program was consolidated into 124 points, with a few of the reforms apparently being ditched. Again no details were available.
Among the few measures that were announced was a plan to build 108,000 new hotel rooms in the next 14 years to cope with soaring tourist demand as Cuba and the United States normalize relations. A plan to allow investment in technology parks was also adopted, but details were not given.
The opaque nature of the congress has frustrated many Cubans, including party members who are used to more discussion around such events. Castro said on Saturday measures adopted at the congress would be discussed later with party members nationally.
But party newspaper Granma announced on Tuesday that the last day of the congress would not be broadcast live as it usually is. No explanation was given.
At the opening ceremony Castro strayed from his written speech on several occasions. As he was talking about human rights, an aide passed him a note saying "We are live" on television.
"I think that what we are is alive," Castro responded, to applause and laughter.