Top Lebanese police officials visit Michigan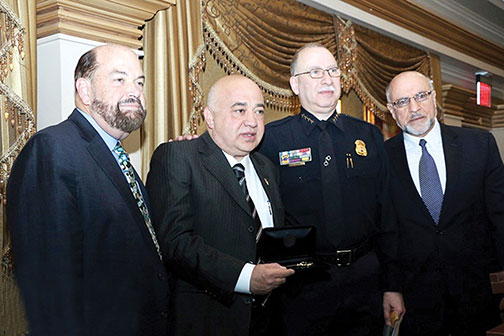 By Tariq Abdel Wahed
DEARBORN — A group of Lebanese security officials visited Michigan this week as a part of a collaboration program with the Bureau of International Narcotics and Law Enforcement (INL), which works with foreign governments to strengthen their police, courts and corrections systems.
INL's stated mission is to protect Americans' safety by increasing global security.
The Lebanese security delegation included Beirut's Police Chief Brig. Gen. Mohammad Ayyoubi, Colonel Rony Bittar Ghanem, Col. Elie Al Asmar, Major Bachir Abboud, 1st Lt. Elsy Hajj, 1st Lt. Nazir Moussaka and Lt. Jeffrey Najjar
other top commanders. The group has visited several police departments throughout the United States.
Ayyoubi said the trip was a part of a three-year effort by the State Department to increase cooperation with Lebanese security agencies and help them with equipment, policy and training.
"Our visit to the Detroit area was great," Ayyoubi said. "We visited the Detroit Police headquarters and became familiar with the policing procedures and how the department is forming partnerships with social organizations, which is helping combat crime."
The Beirut police chief added that police should be a part of the community and avoid coming off as the enemies of the people they are serving.
He praised Detroit Chief James Craig for forging ties with residents.
"We attended a community meeting at a school where Chief Craig listened to students, addressed their problems and grievances and answered their questions politely," Ayyoubi said. "Unfortunately, we lack this kind of approach in our departments. We should improve our relationship with social and non-governmental organizations and all aspects of society."
Asked about the state of the Lebanese capital, Ayyoubi said Beirut is under a more stable security state than most other Arab cities, adding that violence and sectarianism in neighboring countries affect Lebanon.
"Despite the turmoil in the region and the overpopulation that Beirut suffers, and despite the spread of weapons among the people, our city remains safer than even some European cities," he said.
Ayyoubi said crime is down in the Lebanese capital.
"I am not trying to say it is all perfect," he said. "But the truth is that our crime rates are lower than some major western cities. Major crime like bank robberies are virtually non existent."
The delegation also visited Saginaw on Wednesday, where they discussed community based policing with Chief Bob Ruth. Ruth and Michigan State Police Lt. Marvin Jenkins detailed community-based policing efforts, and then rode along with officers through the city Wednesday night.
Ruth expressed his pleasure in taking advantage of a rare opportunity.
"You cannot live inside a box and think your way is the best way or the only way," he told The Saginaw News. Good leaders take the time to listen and learn from other law enforcement leaders from around the world. Most departments never have this opportunity to learn about how police interact with citizens in other parts of the world. We have the unique opportunity to do it for a few hours."
A community policing approach is desirable, officials said, because of the diverse religious backgrounds of those in Beirut. Much like community policing in urban communities aims to squash beliefs of racial profiling, among others, officials hope the approach would break down concerns of religious profiling in Beirut.
The U.S. Department of State's Bureau of International Narcotics and Law Enforcement Affairs has invested $160 million since 2008 in Lebanon. That money has helped fund training, equipment improvement, programs such as this week's trip to Michigan, and other efforts to further professionalize and modernize the police force.
Arab American news