Cruz defeats Trump in Wisconsin and Sanders defeats Clinton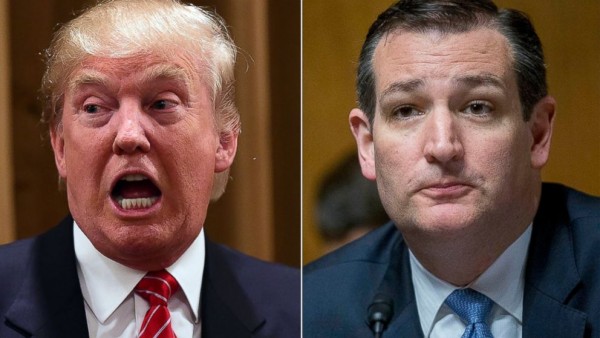 Senator Ted Cruz soundly defeated Donald J. Trump in the Wisconsin primary on Tuesday, breathing new life into efforts to halt Mr. Trump's divisive presidential candidacy and dealing a blow to his chances of clinching the Republican nomination before the party's summer convention.
On the Democratic side, Senator Bernie Sanders defeated Hillary Clinton in a much closer contest.
Mr. Trump's loss was his most significant setback since Mr. Cruz narrowly defeated him in Iowa, the campaign's first nominating contest. And after largely dominating the Republican field from the moment he announced his candidacy last June, Mr. Trump now faces a fresh challenge: bouncing back in the face of searing attack ads by Republicans bent on stopping him, persistent questions about his demeanor and campaign organization, and a single ascendant challenger in Mr. Cruz.
In winning Wisconsin so convincingly, Mr. Cruz, of Texas, showed he was capable of appealing to more than just the hard-line and religious conservative Republicans who have been the foundation of his campaign. But he faces daunting tasks of his own. One is consolidating the anti-Trump vote. Another is capturing more moderate Republicans in a series of primaries in Northeastern states that are likely to be favorable territory for Mr. Trump, beginning with New York on April 19.
Standing in Mr. Cruz's way is Gov. John Kasich of Ohio, who finished a distant third on Tuesday despite spending considerable time in Wisconsin.
While Mr. Trump won among moderates, exit polls showed, Mr. Cruz and Mr. Kasich received roughly equal support among those voters in Wisconsin. Mr. Cruz not only took nearly two-thirds of "very conservative" voters, he also won among voters who called themselves only "somewhat conservative."
Notably, Mr. Cruz also won among those who did not call themselves born-again Christians — a group with which he has struggled in earlier contests.
Most striking, though, was how many Wisconsin primary voters still harbored deep discomfort with Mr. Trump despite his wide lead in the race for delegates. In exit polls, 55 percent said they would be "concerned" or "scared" if he were elected, higher than the other two Republican hopefuls. And 35 percent of those who voted in the Republican primary said they would support Hillary Clinton, a third-party candidate or no one at all if Mr. Trump were the Republican nominee.
Tuesday's stakes were the greatest for the Republicans since March 15, when five large states cast ballots and Mr. Trump's victory in Florida drove Senator Marco Rubio out of the race.
Many Republicans hoping to defeat Mr. Trump saw Wisconsin as perhaps their last chance to thwart his march to the nomination. With no other Republican contests in the two weeks before or after, Wisconsin made for an isolated showdown.
For Mr. Trump, it was an opportunity to add to his wide delegate lead and score an important psychological victory just as the race turns to his native Northeast. A win in Wisconsin, the sort of Democratic-leaning Midwestern state he has vowed to carry in November, would restore his momentum and undercut those most resistant to his candidacy.
For the party's anti-Trump forces, a victory for Mr. Cruz promised to revitalize hopes that Mr. Trump could be denied a delegate majority, potentially resulting in a contested convention in July. Led by the "super PAC" Our Principles, opponents of Mr. Trump unleashed a sustained assault against him in Wisconsin.
But the greatest damage to Mr. Trump in the 10 days leading up to the primary was self-inflicted.
In a stretch that at times seemed to verge on political masochism, Mr. Trump threatened and mocked Mr. Cruz's wife, and led an elaborate and far-fetched defense of his campaign manager after the aide was charged with battery against a female reporter. Mr. Trump also offered multiple contradictory views on the lightning-rod issue of abortion, including a suggestion that women be punished for ending their pregnancies. And he called in to conservative Wisconsin radio talk shows, apparently unaware of their hosts' hostility to him, to criticize Gov. Scott Walker and Speaker Paul D. Ryan of the United States House, two highly popular Wisconsin Republicans.
Even as polling suggested that Mr. Cruz had taken a clear lead in Wisconsin, Mr. Trump did not retreat: Trying to win at least a handful of delegates in the state's most rural congressional district, he held a rally on Monday near Lake Superior, 400 miles from the state's biggest population center, Milwaukee.
If Wisconsin was a test of how much Mr. Trump's missteps could harm his candidacy, it also presented Mr. Cruz with the chance to prove he was capable of broadening his appeal among less religious, more fiscally minded voters in a big state.
While Mr. Cruz has been Mr. Trump's stiffest competition, he has so far accrued most of his delegates by performing well among the most conservative and churchgoing Republicans, and doing better in caucuses than in primaries.
In expanding his support, Mr. Cruz was hoping not only to win over some of Mr. Trump's supporters, but also to further marginalize Mr. Kasich, who has yet to win a state outside his home base, Ohio, but has gained some support from more moderate Republicans opposed to Mr. Trump.
Blitzing the state in recent days, Mr. Cruz insisted repeatedly, if a bit hopefully, that Wisconsin would prove a bellwether.
"This race has national implications," he told reporters. "The entire country is looking to Wisconsin."
Still, Mr. Cruz enjoyed several advantages in this state that are unlikely to be replicated in the states to come. Much of Wisconsin's political establishment, including Mr. Walker, lined up behind him. The state's popular talk radio hosts lifted him while ridiculing Mr. Trump. (At a Cruz rally on Sunday, one host, Jerry Bader, likened interviewing Mr. Cruz and Mr. Trump in succession to drinking "Champagne with a Listerine chaser.")
Even a former Green Bay Packers star, Kabeer Gbaja-Biamila, hit the trail, attending a public screening of a religious-themed movie with Mr. Cruz and offering a tour of the beloved team's Lambeau Field.
Mr. Cruz strained on Monday to cast his likely win as an upset. "Just a couple weeks ago, all of the media commentators were saying Wisconsin was a state I could not compete in," he insisted. "Supposedly, it was Donald Trump's sweet spot."
Yet as Mr. Cruz swept through event centers, ballrooms and a "cheese castle" to sample the local staple — he said it was his favorite food — he appeared to identify a sort of blueprint for future success against Mr. Trump.
Mr. Cruz's superior on-the-ground organization, which has also boosted him in the shadow primary for convention delegates, came out in force. In a setup perfected during his victorious Iowa campaign, a "Camp Cruz" was established to house out-of-state volunteers, and campaign offices teemed with locals and visitors eager to burn up the phones.
In public appearances, after several days of media coverage dominated by Mr. Trump's attacks against Mr. Cruz's wife and shifting statements on abortion, Mr. Cruz made a play for the high road.
"It's gotten to the point where I could not care less about Donald Trump," he said to cheers on Saturday in Ashwaubenon, just outside Green Bay.
But Mr. Cruz also moved to seize an opening, speaking about his double-digit lead among women in Wisconsin, which aides hope will carry over to other states.
The most conspicuous effort came last week, with the introduction of a Women for Cruz coalition at an event in Madison headlined by Mrs. Cruz; Mr. Cruz's mother, Eleanor Darragh, who is seldom seen on the campaign trail; and Carly Fiorina, Mr. Cruz's highest-profile female surrogate, who has delighted in her attack role against Mr. Trump.
"I've been blessed my whole life," Mr. Cruz said, "to be surrounded by strong women."
At the same time, Mr. Cruz and his team have grown increasingly irritated with Mr. Kasich, viewing his continuing presence in the race as a boon to Mr. Trump.
"Kasich has not made inroads with very conservative voters and has done less to persuade somewhat conservatives than has Ted Cruz," Mr. Cruz's pollster, Chris Wilson, said in a memo last week, after a Marquette Law School poll showed Mr. Cruz winning the state with 40 percent, followed by Mr. Trump with 30 percent and Mr. Kasich with 21 percent. Mr. Kasich was "falling badly behind in a state that should be one of his better opportunities," Mr. Wilson said.
Mr. Cruz has chafed, in particular, at Mr. Kasich's argument that only he can win in the fall.
"Someone is not electable if he can't get elected," the senator fumed on Monday. He predicted that "the people would quite rightly revolt" if a contested convention produced a nominee not named Cruz or Trump.
NY TIMES