Tesla Unveils New $35K Car, Raises Pre-Orders Over $133 Million in Hours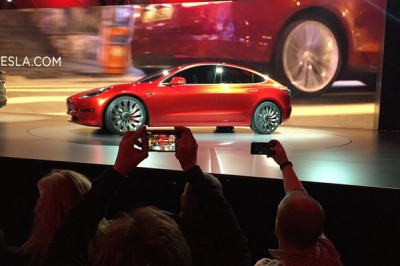 Tesla Chief Executive Elon Musk, speaking to an adoring crowd of Tesla fans, pronounced the Model 3 a success upon its birth Thursday night in Hawthorne.
And by the reaction in person and online, Tesla fans overwhelmingly agreed.
Pulling the covers off the fourth vehicle in the company's short history, Musk declared that more than 115,000 vehicles had been pre-ordered in the first 24 hours. A couple hours later, by 10 p.m. Pacific, that number had climbed to 133,000.
The lower, sleeker Tesla — at least 20% smaller in stature than its bigger brother, the Model S — will be able to go from 0 to 60 in less than six seconds in its most affordable configuration.
"The Model S and X made the Model 3 possible," Musk said. "So to all of you who bought an S or an X, thanks for paying for this."
He noted that with any new technology "it takes multiple iterations … and economies of scale before you can make it affordable."
The Model 3 will be fitted with Tesla's "autopilot" features, which have helped the car be among the safest on highways.
Standing before a collection of new Model 3s, Musk reminded the audience that the car represented the culmination of a long-held dream to bring affordable, zero-pollution vehicles to the world's highways.
Musk began his pitch by pointing out that CO2 levels and global temperatures were at record highs, and said the Model 3 would be a solution to that problem.
Earlier in the day, Tesla showrooms around the world were flooded with eager customers who happily plunked down $1,000 deposits to reserve their cars.
They didn't know what the car looked like, how it would perform or even the exact price, but that didn't matter to the most ardent of fans, some of whom camped out for hours overnight. The car won't become available until late 2017 at the earliest.
Analysts said the event more closely resembled the premiere of a blockbuster film or the latest food fad than the release of a new car.
"Other carmakers launch new models all the time and I don't remember ever seeing this level of excitement," said Max Zanan, co-founder and chief executive of IDDS Group, an automotive consulting firm in New York. Tesla "has been able to carve out their own customer base and that base is willing to delay purchasing other cars and wait for a Tesla."
Los Angeles Times